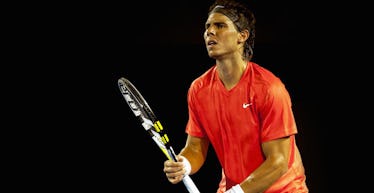 Did Monday's Australian Open Exit Mark The End For Rafael Nadal?
Shutterstock
This time, last year:
It was the quarterfinals of the Australian Open, and I had just witnessed the tournament's No. 7 seed Tomáš Berdych completely dismantle third-seeded Rafael Nadal 6-2, 6-0, 7-6(5).
I remember sitting there for a few moments, after the match had ended, in awe.
I couldn't believe what I had just seen. Quite possibly the most confident tennis player in the history of the game looked like he had finally lost his swagger -- it was as if Casey left "Mudville" and picked up a tennis racquet.
Nadal was famous for his tenacity and aggression on the court. Against Berdych, last Aussie Open, he was simply against the ropes the entire match -- going to his backhand slice just to keep him in points.
Keep in mind, we're talking about Nadal here -- a guy who hit every shot close to the baseline for the duration of his "prime" years -- dictating points and wearing out opponents. Rafa didn't look like Rafa; he looked like one of the superstars from Space Jam after the Nerdlucks zapped his talent.
It's mental, I thought to myself.
I mean, Nadal had just come off an injury that prevented him from playing in the US Open, the September prior. I figured it was possibly a confidence issue that stemmed as a result of the time off.
He'll get over it, I said. But he didn't.
After his Aussie Open woes, Nadal turned to his old friend -- the red stuff -- for a boost, and set off for his first clay court tournament in Rio. The world was ready to see the King of Clay, and champion of nine French Opens, exert his dominance on his court of choice.
Yet, he lost in the final to Fabio Fognini -- a match in which layers deemed him a one- to- 12-favorite.
And then Indian Wells rolled around -- his next big tournament -- and he was stunned in the quarterfinals, again, this time by Milos Raonic. One week after that, it was a second round loss to Fernando Verdasco in Miami. After that, a loss to Djokovic in the Monte Carlo semifinal, where he stood no chance from the start.
Following another loss to Fognini in Barcelona, and an utter beatdown at the hands of Murray in Madrid -- two Spanish tournaments where he's typically had great success over the years -- I was pretty much ready to abandon any hope that one of my childhood idols would ever be the same.
And the mediocrity only continued.
He was disappointing at the French Open. He was even more disappointing at Wimbledon. He showed glimpses of brilliance during some of the smaller tournaments -- like Hamburg, for instance -- but never looked dominant. Put very simply, he was a shell of his old self.
Then came the US Open. Being a huge tennis fan in New York, I wait all year for the tour to come to Arthur Ashe Stadium, and I do my best to go to as many matches as possible. After going to Fognini's first two matches -- leading up to Nadal in the round of 32 -- I surely wasn't going to miss the third.
After losing to Fognini twice earlier in the season, nobody in Arthur Ashe on that night was expecting lightning to strike three times. For the first few sets, it didn't look like it was going to. Rafa jumped out to a 6-3, 6-4 lead and -- by that time, which was already pretty late in the evening -- the crowd slowly started to file out.
In case you didn't know, prior to this match, Nadal was 151-0 after leading by two sets. I'm not sure why I stayed, actually. According to the statistics, the fat lady didn't really even have to strain her voice to sing -- the match was all but over.
And then Fognini won the next three sets and sent Nadal home in the most dramatic of fashions.
Like I did -- during the Aussie Open, months prior -- it felt like the tennis world stopped for a second and just sat there in awe. We all wondered if the career of Nadal -- and his golden swing -- were both just things of the past.
But, then, after the US Open, Rafa bounced back with vigor.
I remember at some point during the tournament in Shanghai that Rafa looked like he was beginning to actually turn the corner on his slump. His forehand began to regain some life. He was fist-pumping again after big points. Some of that swagger began to return.
At the World Tour Finals in London, he defeated Wawrinka and Murray -- two of the top four players in the World -- in a matter of days. Although he lost to Djokovic in the final, I don't know how to describe it; he just looked...better. https://vine.co/v/iBVnrdv0rDd/embed/simple
I honestly can write that -- as the 2015 season came to an end -- I had, dare I say, high hopes for Nadal in the new year. If his slumping season was a product of blown confidence, 2016 should've been a different story. Not only did I regain some confidence in Nadal after the US Open, but it was evident that he did, as well.
I counted down the days until his first round matchup against countryman Fernando Verdasco in Melbourne, to see just how far he'd come. I wanted to see how deep of a run he could make after an entire offseason to train physically and get himself mentally prepared.
After convincing my friends that his career was over -- sometime last summer -- I was suddenly singing a different tune this winter. "Rafa's back," I'd try to tell them. "Just wait."
Monday night, it was time for him to prove it.
In another Grand Slam match on the biggest of stages, Nadal failed to produce. Similarly to the Fognini match at the US Open, Nadal had the match against Verdasco seemingly in control. He was up two sets to one, he had the entire crowd behind him. He just couldn't produce.
The amount of shots Rafa hit into the bottom of the net -- not just into the net, but into the bottom of the net -- was startling. None of his shots seemed to get deeper than the service line. His forehand had no zip. His backhand, even worse.
My friends think it's still confidence, but I'm not sure about that anymore. I honestly can't say I'm sure what's next for Nadal. 2015 was a weird season marked by ups and downs -- and a constant conflict between Nadal and himself, regarding confidence and belief.
It was a battle that I thought Nadal had won at the end of last season. If it's still a confidence issue, it's hard to call it a slump at this point. Slumps eventually end. It appears that, with Nadal, this "slump" has become the norm.
As he walked off the Rod Laver court Monday night, you could see it in his own face throughout the entire fifth set: The belief -- that Rafa magic -- was gone.
To sit here and try and speculate about how his career will pan out from here is a moot point. It's in his hands. At this point in time, I'm not sure whether or not the problems with his swing result from a damaged spirit or a body that's simply worn down.
I would love to be the one writing Nadal's comeback story seven months from now, after a triumphant revival at Roland Garros, but I just can't see it. At least not at the moment. I guess only time will tell.