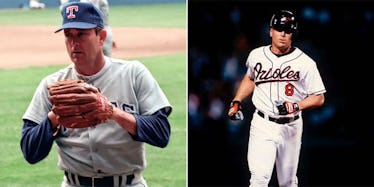 What The MLB Would Look Like If Players Played For Their Home States (Photos)
Wikimedia Commons/Facebook
Though Major League Baseball made its long-awaited return this month, it's only the second-best thing about the start of spring.
Don't get me wrong, MLB action is great, but it's really the idea of the game at the grassroots level that's the most exciting part.
Every year around this time, thoughts of little league, high school ball and what the sports scene around home used to be like inevitably take you down a nostalgic road.
For me and my boys, we'll remember a period in high school dominated by current Red Sox pitcher Rick Porcello and New Jersey's Seton Hall Prep. For other fans, there's sure to be something else.
For the most part, everyone should have good memories of where and when they grew up playing the game and an appreciation of the history those places have, too.
When it comes to producing MLB stars and Hall of Famers, in particular, some states have a leg up. So just which of the best ball player-producing states could claim the best fantasy lineups of all time?
Scroll through this list of the 25 best and decide for yourself.
Alabama
Arkansas
California
Florida
Georgia
Illinois
Indiana
Maryland
Massachusetts
Michigan
Missouri
Minnesota
Nebraska
New Jersey
New York
North Carolina
Ohio
Oklahoma
Oregon
Pennsylvania
Texas
Virginia
Washington
West Virginia
Bonus: Canada
Citations: Players by Place of Birth (Baseball Reference)