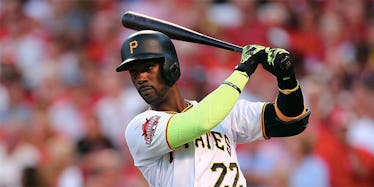 Heavy Hitters: The Top 5 MLB Players To Watch In The 2016 Season
Getty Images
Now that the Super Bowl is out of the way, it's time to look forward to what's coming next. With pitchers and catchers reporting to spring training in just days, it is safe to say we're officially approaching baseball season.
Besides the World Series, the other anticipated part of the season is the announcement of the MVP for both the American League and the National League. Here are five potential candidates, before the season even starts, for that coveted MVP award:
1. Mike Trout
Honestly, is it an MVP race if Mike Trout's name isn't involved? The Los Angeles Angels of Anaheim have one of the league's most dynamic outfielders as the face of their franchise.
Trout's bat has made a splash in the majors since his introduction to the league in 2012. Last season, the 24-year-old batted .299 with 41 home runs. He displayed his dominance in the field as well, making spectacular plays on a daily basis.
Trout may be young, but he is just getting started. While last year wasn't as great as his campaign in his 2014 MVP season, it still showed Trout is going to be a dominant force for years to come. It will be exciting to watch him do some great things on his way to that final voting this season.
2. Josh Donaldson
Of course the reigning MVP will be in this discussion. Donaldson took Toronto by storm, and certainly found a home as their starting third baseman. He practically single-handedly pushed Toronto to the playoffs.
Donaldson finished last season first in both RBIs and runs scored while posting a .297 BA. Even better? At Toronto's Rodgers Centre, Donaldson batted .330. Donaldson really came into his own this past season, and now that he's found his home in Toronto, he'll be even better next season.
3. Andrew McCutchen
Although last year wasn't McCutchen's best season in terms of offensive output, he still managed a .292 average and lead his team into the Wild Card game. McCutchen stands out on the defense. His play in center field significantly helped keep the Pittsburgh Pirates in the playoff race.
A five-time All-Star and the league MVP in 2013, McCutchen still has the speed to make things happen and the baseball smarts to get him back the title of MVP. Welcome back, McClutch.
4. Yoenis Céspedes
While Céspedes didn't have an outstanding year, but he finally found a home with the New York Mets after bouncing around constantly for the past two seasons. Céspedes still batted .291 with 35 home runs and also threw out runners without even trying. His arm is his biggest asset that carries him defensively.
Now that Céspedes is settled and coming off a season that led his team to the World Series, you can bet he's itching to get back there and redeem himself for his team and himself.
5. Bryce Harper
If Harper can stay healthy, this 23-year-old will make a case for himself as the NL MVP. Since day one, he has impressed everyone on the field and is a bit of a goof off of it.
Harper finished fourth in home runs with 42 and boasted an impressive .330 average in 521 AB. Coming off a strong season, Harper will be able to make statement in DC and with a good team behind him, he'll emerge stronger than ever.
Before the season even begins, you can count these guys in the race to MVP. The real question is, which ones will come out on top?