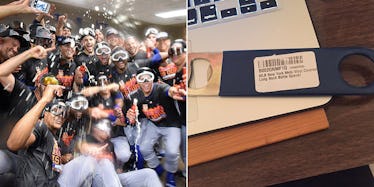 This Mets Fan Had The Greatest Reaction When Amazon Messed Up His Order
Anthony Apruzzese is as excited as any Mets fan right now. New York's National League team hasn't been in the postseason since 2006 and hasn't had this good a team in, well, maybe ever.
Anthony, who also happens to be a comedian with the Upright Citizens Brigade, says he recently ordered a Mets bottle opener to celebrate the team's achievement, and so he could crack open a few beers next week during the Mets' playoff series against the Los Angeles Dodgers.
But upon opening his Amazon box, Anthony was horrified to find the Mets bottle opener he ordered was actually a New York Yankees bottle opener.
Here is the opener Apruzzese apparently thought he was getting.
After opening the box, everything appeared to be going according to plan.
But then, Anthony was sick to his stomach after he peeled away the label and saw a Yankees logo.
According to BuzzFeed, he said never returned anything to Amazon before, but this simply couldn't stand.
Anthony also sent back a little note for whoever packed that Yankees opener.
It must be October.
Citations: This Mets Fan's Worst Nightmare Just Came True (BuzzFeed)