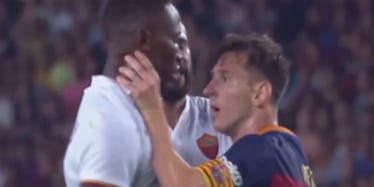 Messi Proves He's Human, Headbutts And Grabs Throat Of Another Player (Video)
During Barcelona's 3-0 preseason win over Roma yesterday, Lionel Messi had a moment of madness.
The world's best player, who rarely allows his cage to be rattled, was put off by the actions of Roma's Mapou Yanga-Mbiwa, which resulted in Messi headbutting and grabbing Mapou's throat.
It's not often we see the Argentine lose his cool, but it's somewhat refreshing to see the magisterial Messi is indeed human.
It's also pretty ironic the first guy holding Messi back is Luis Suárez. Guess he was still full from lunch!