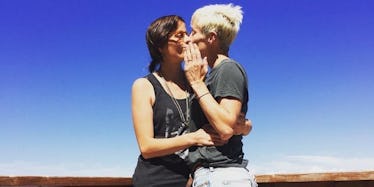 Megan Rapinoe Of The US Women's National Soccer Team Just Got Engaged
Last month, the US women's national team took us on a wild ride that ended with their first World Cup trophy since 1999 and a kick-ass parade in New York City.
Following the World Cup, many of the US players made appearances on various talk shows and magazine covers.
But for one player in particular, the celebrations are just beginning.
Yesterday, forward Megan Rapinoe took to Instagram to announce her engagement to her girlfriend, Sera Cahoone.
Congratulations, Megan and Sera; you guys deserve nothing but the best.
Citations: Megan Rapinoe Announces Engagement On Instagram (Huffington Post)