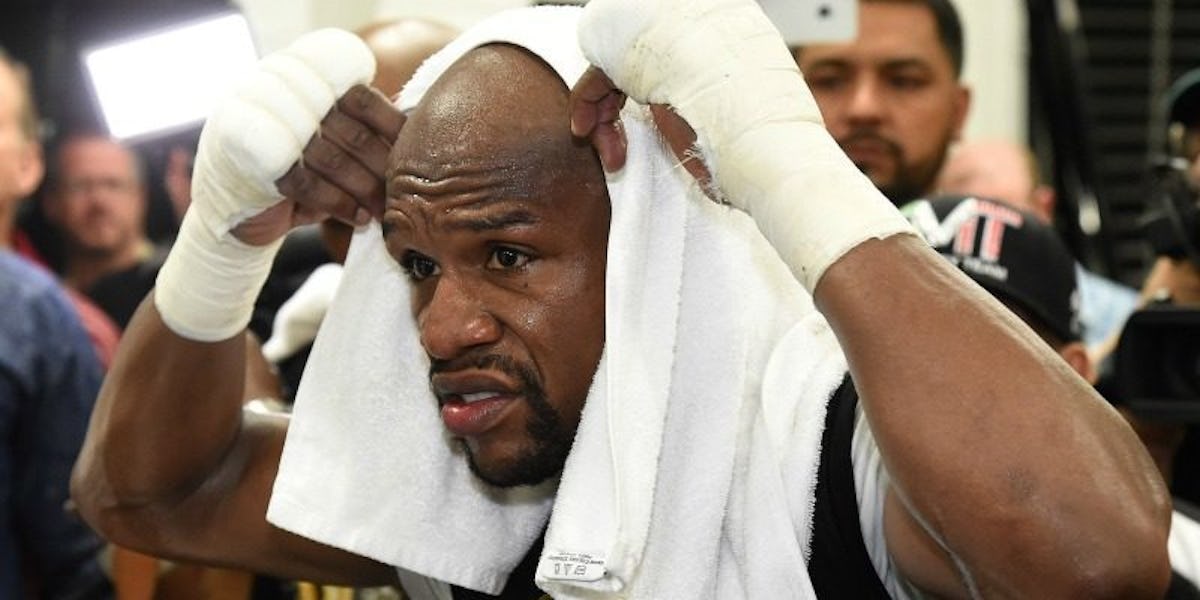 Mayweather Goes On Baseless Rant, Says Love For Rousey Is 'Racist'
Getty Images
When will Floyd Mayweather Jr. learn to let his boxing do the talking?
In a recent interview, Mayweather went in on UFC fighters Ronda Rousey and Conor McGregor, saying their celebrity is a clear indication "racism still exists."
First off, racism absolutely still exists. And excerpts from Mayweather's interview prove it -- just not in the way he intended.
In an interview with FIGHTHYPE, Floyd stated,
After Ronda Rousey fought I think nine, 10, 11 fights, it didn't even take that long, she got all types of endorsements, movies and everything. Laila Ali did the same thing in better fashion. Ronda Rousey, she's a good-looking woman when she put it on. Laila Ali is a drop-dead gorgeous woman; I mean a naturally beautiful woman and can kick ass, but you never heard them [the media] saying when she had I think somewhere around 10, 11, 12 fights that she was the baddest woman to ever fight on the planet.
He continued,
And what's so crazy, I don't really know the McGregor guy; never seen him fight... They say he talk a lot of trash and people praise him for it, but when I did it, they say I'm cocky and arrogant. So biased! Like I said before, all I'm saying is this, I ain't racist at all, but I'm telling you racism still exists.
People praise McGregor for walking the walk after talking the talk, Floyd. No one would praise him for talking sh*t and then getting his ass handed to him.
And you've never seen him fight, really? Have some humility.
As far as Rousey, we all know Mayweather has a personal beef with her. So, he takes a subtle jab by saying she has to "put it on," presumably in order to be marketable.
Is Laila Ali a great fighter? Absolutely. Unfortunately, the popularity of boxing is nowhere near the popularity of UFC at the moment, which, if you ask Floyd, is probably Rousey's and McGregor's fault.
And, bruh, people think you're "cocky and arrogant" because you've been accused numerous times of committing domestic violence and have no apparent regard for money.
It's the racism, though, for sure!
Citations: Floyd Mayweather Says Praise For Ronda Rousey And Conor McGregor Proves 'Racism Still Exists' (UPROXX), FLOYD MAYWEATHER SOUNDS OFF ON THE STATE OF BOXING: "I TRULY BELIEVE THAT RACISM STILL EXISTS IN THE SPORT" (FIGHTHYPE), Floyd Mayweather has a disturbing history of domestic violence (Business Insider)