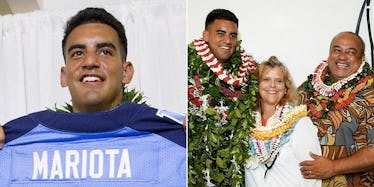 Marcus Mariota Is Set To Become The First Hawaiian NFL Superstar
Instagram
Marcus Mariota decided not attend the NFL Draft this year.
Instead, he was watching from home over 4,000 miles away with friends and family back in Hawaii.
The humble Heisman winner has some high expectations on him as the second overall pick to the Tennessee Titans. But thanks to a certain quarterback drafted right before him, the spotlight won't be as bright.
Mariota officially became the highest drafted Hawaii-born player in NFL history and will be entering the league with the pride of an entire state riding on his back.
He now has the chance to do something never done before and represent his people as the state's first true NFL superstar.
Marcus spent the days leading up to draft at St. Louis School, the all-boys Catholic high school in Honolulu he graduated from in 2011.
He also announced the Marcus Mariota Scholarship Fund, which helps pay tuition for a student-athlete at his alma mater who has at least a 2.75 GPA for four years.
According to HawaiiNewsNow, the 21-year-old said,
Saint Louis School and my family made me who I am today. I want future generations of student-athletes in financial need to know they can become the best they can be in a strong, supportive environment.
Considering his high draft spot, many believe him to already be the opening-day starter as his athletic skillset should transition nicely into the NFL, despite running a spread style offense at Oregon.
Scouts have compared him as a 6'4" Russell Wilson — which would be terrifying, and needed — in a division that includes big-time playmakers like JJ Watt and Andrew Luck.
But what separates Mariota from any other player in this draft class is the combination of his calm demeanor and the intense work ethic only few have.
His mental preparation is something you can't teach, and his inner strength is something he was born with.
Focus is something Marcus Mariota is full of, and if he can fully start to grasp Ken Weisenhunt's complex offense and prove he can line up under center, he's going to be a force in the NFL for years to come.
Marcus' father is Samoan and his mother is German, so like many Polynesian players before him, football is a lifestyle he was built for.
Players like Mariota, who possess speed, instincts and dedication, don't come around very often, and from the day he steps on to an NFL field, he'll be one of the most gifted players in the league.
Still, Mariota maintains his humble nature and looks forward to seeing more Hawaiian players break into the league and make names for themselves.
When asked how it feels to be the highest drafted player from Hawaii, even he was surprised.
I didn't even know that until now. That's special. I'm sure in the future there will be a guy who goes at one and I hope that's soon because there's a lot of talent here. It will be that day soon.
Between his humility, talent and marketability, he could turn into the next star.
We all know Marcus Mariota rarely makes any mistakes off of the field, but the same can be said for when he's on it, hence the 105 touchdowns to just 14 interceptions in his three years at Oregon.
He's already landed endorsements with Nike, Beats By Dre and Subway. He even had his own draft day sneakers!
The truth is, Marcus Mariota can take himself as far as he wants to go.
If he can stay focused, adapt to the pro game and continue to lead, he's going to be a great player and make the Aloha State very proud.
Funny enough, his first game will be against the number-one overall pick, Jameis Winston, and the Tampa Bay Buccaneers. We're going to find out a lot about the future of football on September 13.