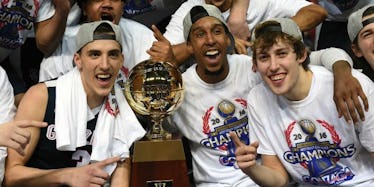 Study Says These 3 Teams Are Must-Pick Upsets For Your NCAA Bracket
Getty Images
I may have been hit with one less hour of sleep, pouring rain and no running water this morning, but I'm not about to let any of that damper the excitement of one of the best sports months of the year.
It's March, people, there was bound to be a bit of madness the Monday after Selection Sunday, and I'm certainly not about to take any of this as some sort of sign I shouldn't bet way too much money filling out multiple NCAA tournament brackets as usual.
However, when it comes to picking the field of 64, I am willing to try and do things differently this March. Usually, I run around like a chicken without my head on, texting anyone I've ever watched college basketball with to see which No. 12 seed he or she thinks is a lock, which No. 4 seed is overrated and which No. 1 seed is probably going to be lifting a National Championship come the first Monday in April.
This year, I'm going to roll with the experts, and I'm not talking about the dudes on ESPN. I'm talking about going with cold, calculated data, which is based on over a decade of research. We're talking wins, losses, distance traveled and everything in between.
Based on that research, which was gathered by Bing, these are the teams you need to pick as upsets when you fill out your tournament bracket.
No. 12 University of Arkansas at Little Rock over No. 5 Purdue University (55 percent favorite)
Only the No. 1 overall seed, University of Kansas, finished with a better regular season record than Arkansas-Little Rock (29-4). In addition, the Little Rock Trojans won both the regular season conference title and the end-of-season conference tournament title. Look no further, folks, this is the 12-over-5 upset you want to pick this year.
No. 12 University of Tennessee at Chattanooga over No. 5 University of Indiana (52 percent favorite)
UT-Chattanooga already has a key win against the seventh-seeded University of Dayton Flyers this season. When you couple Tennessee's consistency with the fact they're going to be playing the Indiana Hoosiers in Indiana's rival state, Iowa, this upset pick looks more and more appealing. Having a pro-UT crowd could work wonders for the Mocs.
No. 11 Gonzaga University over No. 6 Seton Hall University (60 percent favorite)
Despite Seton Hall's sixth seed, this is the school's first NCAA tournament appearance in a decade. The unfamiliar setting of March Madness, along with two bad losses to Creighton University and Long Beach State this season, may just spell an early tournament exit for the Pirates. Gonzaga is also a very underrated 11 seed; the Bulldogs suffered seven losses this season, but six of those were by five points or less.
Bonus picks:
The following picks can't really be considered true upsets, seeing as how they're not seeded that far apart, but if you're looking for some added help when filling out your bracket, you may want to go with these higher seeds in the opening round.
No. 10 Pittsburgh over No. 7 Wisconsin (56 percent favorite)
N0. 10 Virginia Commonwealth University over No. 7 Oregon State University (65 percent favorite)
No. 9 Butler University over No. 8 Texas Tech University (57 percent favorite)
Mega upset alert: No. 13 University of Hawaii over No. 4 University of California
Due to the fact Hawaii and California will square off in Spokane, Washington, the Hawaii Rainbow Warriors will not have to travel far for their first round game. In addition, Hawaii is banned from next year's NCAA tournament because of various NCAA violations, which means the team should go all out in this year's competition. So, while Cal is still a 53 percent favorite to win this game, don't be shocked if Hawaii ends up advancing to the next round.
Citations: Bing Predicts: Making Sense of NCAA March Madness (Bing Blogs), Bing Predicts 2016 March Madness Bracket (Bing), Hawaii receives postseason ban in 2017, other sanctions from NCAA (CBS Sports)