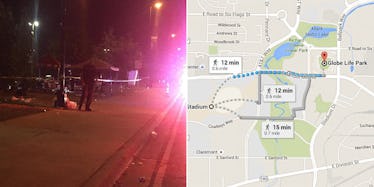 Man Was Shot During A Fight That Broke Out After Cowboys-Patriots Game
Following yesterday's game between the Patriots and Cowboys in Arlington, Texas, a man was reportedly shot in the AT&T Stadium parking lot, and he is in critical condition.
Two off-duty police officers found the victim, who's in his early 40s, after they responded to the incident around 8:30 pm.
Arlington Police investing a shooting in Parking Lot 10 of AT&T stadium following Cowboys game. pic.twitter.com/Pfld6IN8NR — Rebecca Lopez (@rlopezwfaa) October 12, 2015
According to Arlington police, a suspect was arrested, and the victim was airlifted to a hospital in Fort Worth, Texas.
Police said the suspect also received medical attention after he hurt his leg while trying to evade capture.
Crime scene unit. Police tape. Ambulance. 8 police cars outside @ATTStadium . pic.twitter.com/SShNZpIhPe — Clarence Hill (@clarencehilljr) October 12, 2015
It's unclear what precipitated the shooting, but the area was extra crowded as a result of the Texas Rangers' playoff game at nearby Globe Life Park. The two stadiums are about a 12-minute walk from each other.
More from Arlington PD on shooting in parking lot outside of AT&T Stadium. pic.twitter.com/w8cJ5xdp70 — Ryan Osborne (@RyanOsborneFWST) October 12, 2015
Citations: Man critically wounded in shooting after Cowboys-Patriots game (The Washington Post)