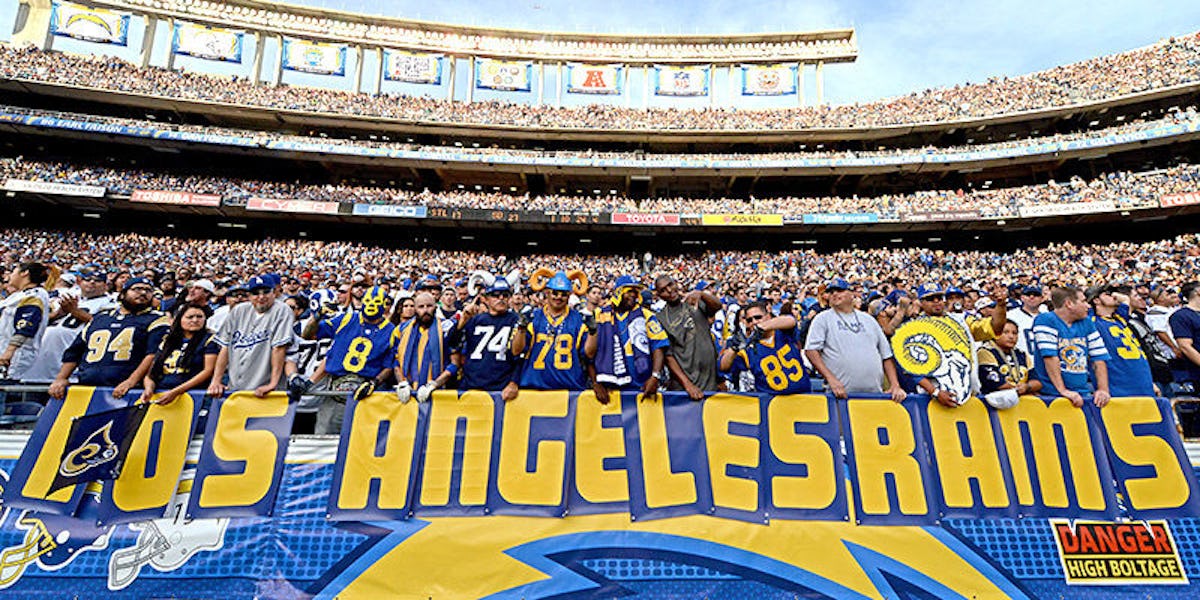 Los Angeles Is Building A $3 Billion Stadium For These Two NFL Teams
Getty Images
Los Angeles hasn't had a professional football team since 1995.
That was the year the Rams and Raiders respectively dipped to St. Louis and Oakland, leaving a huge void in one of the biggest sports markets in the US.
Since then, USC and UCLA have been the closest things to NFL teams in LA, but that's all going to change after NFL owners voted, 30-2, to bring the Rams back to the city on Tuesday.
Rams approved to relocate to Los Angeles: https://t.co/JirE1vxKry pic.twitter.com/I3xrlDGtD6 — NFL (@NFL) January 13, 2016
In addition, the Chargers also have the option to move to Los Angeles and will likely be joining the Rams since their new stadium deal in San Diego seems to be at a standstill.
According to the LA Times, a $3 billion stadium has been approved and will be built in the Inglewood area of Los Angeles to house both the Rams and Chargers and is set to open in 2019.
The stadium is set to be the largest in the NFL and will feature a glass roof, valet and a stage, just to name a few features.
You can take the insane virtual tour of the stadium below.
While the Raiders were another team in the mix to move to LA, they sorted their new stadium deal in Oakland just in time.
It may be an emotional day for Rams fans in St. Louis, but it's a pretty great one for everyone in Los Angeles who's been itching for an NFL team for the past 21 years.
As for the NFL, it will be making more money than ever when these teams arrive.
Citations: NFL will return to Los Angeles for 2016 season (Los Angeles Times)