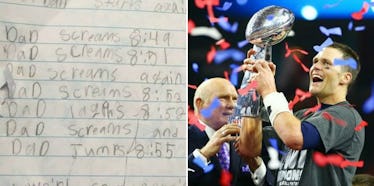 Little Girl Hilariously Documents Her Dad's Super Bowl Reactions
Reddit/USA TODAY Sports
Sunday night, Tom Brady and the New England Patriots pulled off the impossible when they rallied from 25 points down to defeat the Atlanta Falcons 34-28 in overtime in Super Bowl LI in Houston, Texas.
Down 28-3 in the third quarter, Tom Brady engineered a comeback of epic proportions en route to a record fifth Super Bowl victory.
The game was beyond amazing, sure, but the record one little girl kept of her dad's insane reactions to watching Super Bowl LI might be even more impressive.
I don't know about you, but I was already drunk on beer and food by the time the Patriots began their wild second-half comeback. Nevertheless, I was in a state of utter disbelief as I watched the Falcons refuse to run the ball, only to give Tom Brady and the Pats the small window they needed to climb back into the game.
Everyone at my Super Bowl party went nuts once New England tied the game up and forced the first overtime in Super Bowl history, but I doubt anyone's reaction was as intense as this father's.
According to Reddit, and as you can see in the photo below, a girl documented her father's epic reactions from halftime of Super Bowl LI until the final touchdown in OT.
Yes, an amazing little girl actually made a handwritten documentation of her dad's wild Sunday night in the living room.
Where to even begin with this document? I'm just going to say it, this might be the greatest thing written since the US Constitution.
First off, I love how she dates the document, for historical keeping, of course. Then, you'll notice how everything is timestamped and detailed.
From 8:49 pm on, this girl's dad screamed a lot, as I'm sure the rest of America did.
At 8:54 pm, dad didn't just scream, he also startled this little girl.
Just before 9 pm, the "jumps" took place.
At 8:56 pm, there was a "weird commercial." I don't remember this commercial, but you know what, I'm going to take this little girl's word for it.
As the Patriots started to turn it around, dad fought with the dog, did an "evil laugh" and became the "happiest person" on Earth.
The best part of this girl's notes, though, occurred at 10:30 pm, when dad cried like a baby.
I think it's safe to assume dad is a New England Patriots fan, and he probably called out of work Monday. Good game, sir.
Citations: She took notes of her dad's reaction throughout the Super Bowl. (Reddit)