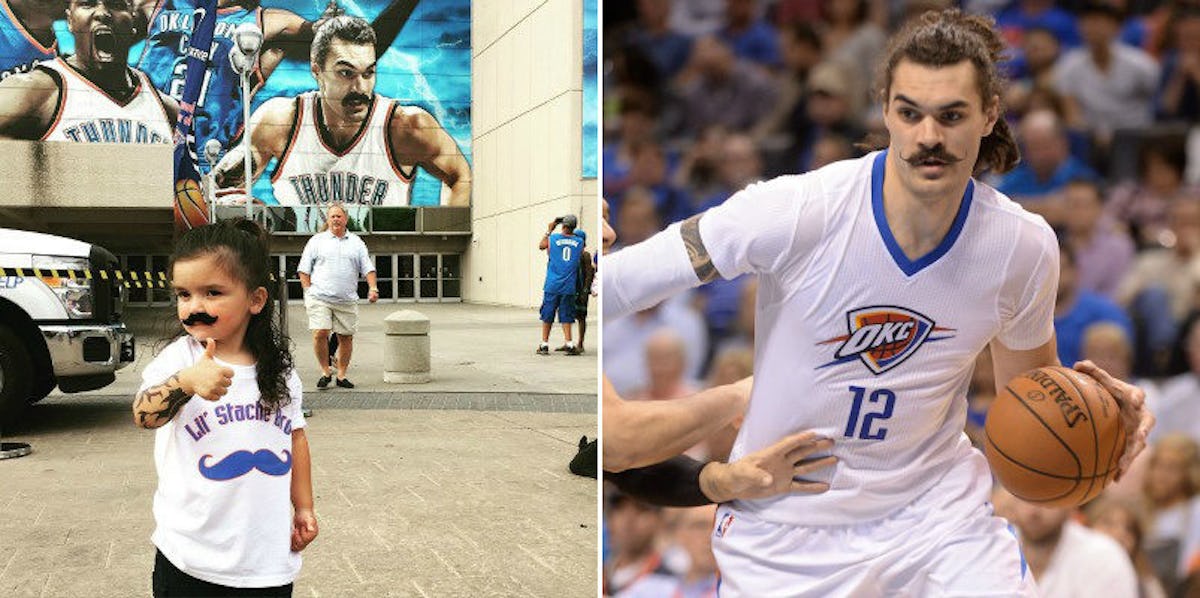 This Little Girl Is The Most Adorable Steven Adams Doppelgänger Ever
Believe it or not, and I'm still in shock myself, the Oklahoma City Thunder are just one game away from knocking off the Golden State Warriors and booking a place in the NBA Finals.
Sure, Kevin Durant, Russell Westbrook and Serge Ibaka are leading the way for OKC against Steph Curry and the Warriors, but the giant New Zealander in the middle, Steven Adams, has truly been an unsung hero for the Thunder.
From his mustache to his long hair to his tribal tattoos, Adams is not only providing invaluable service on the court, he's showcasing a style we haven't really seen before in the NBA.
OKC fans have come to regard the Kiwi as something of a cult hero, which is why this little girl decided to dress up and transform herself into the most adorable Steven Adams doppelgänger you'll ever see.
I mean, come on. Not only are the Thunder kicking butt on the court, they also clearly have the best fans this postseason. If it's this little Adams vs. Drake for title of best fan, sorry, Drizzy, I'm rolling with "Lil' Stache Bro" every day of the week.
This little girl doesn't even have to say anything to be awesome; her thumbs up says it all. Sure, there are other Steven Adams fans in Oklahoma City, but none with the cuteness and creativity of this little girl.
In fact, her look is so awesome she even won the heart of Steven Adams himself. I think the OKC center accurately summed up how we all feel about his adorable doppelgänger.
Slay, young one. Slay.
Citations: This Little Steven Adams Thunder Fan Is The Best Basketball Baby (UPROXX)