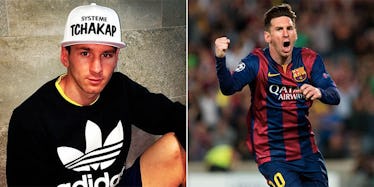 Messi Proves You Don't Need Swag To Be The Greatest Of All Time
Instagram/Facebook
If you didn't know who Lionel Messi was, you probably wouldn't give a second look if you passed him on the street.
Sure, the Argentina and Barcelona forward has scored 452 career goals for club and country combined, but he's also 5-foot-6, 148 pounds.
He's widely considered the greatest in the game, but he'd probably get carded if he tried to see an R-rated movie.
This is what makes Lionel Messi a hero.
It's impossible to talk about Messi without running into a comparison with Portugal and Real Madrid forward Cristiano Ronaldo.
They compete on the two best teams in Spain -- and arguably the world -- they both score jaw-dropping goals, and they both have an ardent group of fans.
But, where the tall, chiseled Cristiano Ronaldo takes to the spotlight like a fish to water, the diminutive Messi prefers to do most of his talking on the field.
Lionel isn't one to star in underwear commercials, date every model on the planet or revel in the creation of a giant bronze statue erected in his honor.
Basically, as far as the modern sports superstar goes, Lionel Messi is swagless.
Messi looks like the dad that doesn't know he is driving his kids to a college party pic.twitter.com/n8IbZvrZ7v — Sidharth Taank (@sidhman) May 7, 2015
Yes, Messi can do things with a soccer ball that seem otherworldly, but why do I only get 90 minutes once a week with the Atomic Flee? Why isn't he blowing up my Twitter timeline on the reg?
Even though Messi has no swag, he's still the greatest, now and forever, and here's why.
Despite not wanting to be in the social spotlight, Messi transcends the game itself.
If you were stuck under a rock on Wednesday, you missed one of the most dominant performances in soccer history.
Messi's Barcelona were playing host to German champions Bayern Munich in the first leg of the Champions League semifinal.
With the score tied 0-0, and the visitors feeling good about the return leg in Munich in a week's time, Lionel Messi sprang into action.
In the span of three minutes, Messi undressed the Bayern defense to score two superb goals, the second of which left defender Jerome Boateng with a pair of broken ankles, and the world with some amazing memes.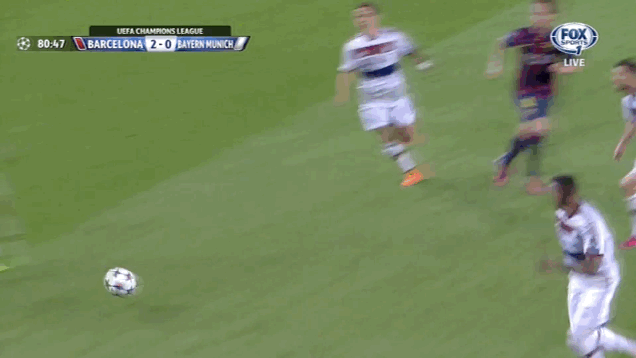 Following the goals, Messi quickly became the number one trending topic on Twitter. Before 6 pm EST, there were 1.84 million tweets about him. It continued like this for much of the evening.
Without saying a word, Messi took over the global conversation.
We'll never truly appreciate his genius until he hangs up his boots for good.
On Wednesday, Messi put on a show that left everyone in awe. But, it was far from the first time he's done that.
The Barcelona man has consistently conjured up magic that has elicited orgasm-like responses from announcers and fans alike.
It's gotten to a point where if Messi doesn't score, it's not just a disappointment, it's a shock.
And while he's still just 27, one day, Messi will be a memory; only then will we truly realize how special this individual is. It's no one's fault we can't really see how lucky we are right now, Messi spoils us on a weekly basis.
Just close your eyes and think about soccer with no Messi. #worstnightmare
Aside from the adoration of pundits and fans, Messi has the respect of his peers.
It's one thing to be championed by those who watch soccer, it's quite another to be hailed as the greatest ever by those who play.
Following his latest show, players past and present came out of the woodwork to give Messi his due.
It's such a joy to watch Messi. The greatest! — Gary Lineker (@GaryLineker) May 6, 2015
Please tell me you saw Messi pull an And 1 Mixtape move..... #BreakingAnkles https://t.co/hkUDgsytTM — Alejandro Bedoya (@AleBedoya17) May 6, 2015
He really is from a different Planet #Messi even if u are supporting another team u have to admit this . — Patrick Kluivert (@PatrickKluivert) May 6, 2015
That is ridiculous from the master #messi — Charlie Austin (@chazaustin9) May 6, 2015
I never said it was only soccer players.
#Messi #MagisterialMessi — Kobe Bryant (@kobebryant) May 6, 2015
Messi is a monster! — Jeremy Maclin (@jmac___19) May 6, 2015
In an era where players change teams quicker than you change your mind, Messi will always be Barcelona.
Despite being born in Argentina, there's an area of Spain that has adopted Lionel Messi as one of their own.
In 2000, Barcelona technical secretary Charly Rexach signed a 13-year-old Messi to his first Barcelona "contract," which was written on a napkin.
Rexach was so sure Barcelona needed Messi -- despite the club having to pay $1,000 a month for his daily hormone injections -- he made sure he got the youngster's signature, even though he didn't have an actual piece of paper.
The rest, as they say, is history.
There isn't a dollar amount on the planet that could pry Messi away from the Catalan side, and that's something supremely unique to not just soccer, but sports as a whole.
Speaking to The Guardian earlier this year, Messi said,
I have never demanded anything to stay because I don't have any intention of going. I heard people say that my dad has spoken to Chelsea, to City… it's all lies.
Instead of flaunting money, women and cars, Messi comes off as extremely humble.
A lot of big-name athletes' Instagrams serve as constant reminders they make more money than most could ever dream of.
A quick look at Leo Messi's Instagram makes it seem as if the world's best soccer player is just a regular dude.
As for his Twitter account, well, he doesn't even have one. The closest thing to an official account for Messi is @TeamMessi, which is really just an Adidas soccer arm.
Regardless of how you quantify it, Messi is the greatest of all time.
When we talk about the GOAT in any sport, the argument always arises that it's hard to compare players across different generations.
"Oh, the game was different then." "You couldn't do this, you used to be able to get away with that."
With all due respect, Pele and Maradona were phenomenal players, but they're not better than Lionel Messi.
Is the greatest player of all time the one who finishes his career with the most goals, most European titles and most World Cup wins?
How about the most domestic trophies and individual accolades?
The answer isn't black and white.
What I know, is that regardless of his swagger off the field, watching Lionel Messi's dribbling ability, vision and sensational scoring touch is one of the greatest joys of the 21st century.
Citations: All Time Stats (Messi v Ronaldo), Lionel Messi (ESPNFC), Jerome Boateng Memes Go Crazy After Lionel Messi Turns Him in Barcelona Game (Bleacher Report), Lionel Messi was signed by Barcelona on a napkin (Pro Soccer Talk), Lionel Messi says he has no intention of leaving Barcelona (The Guardian)