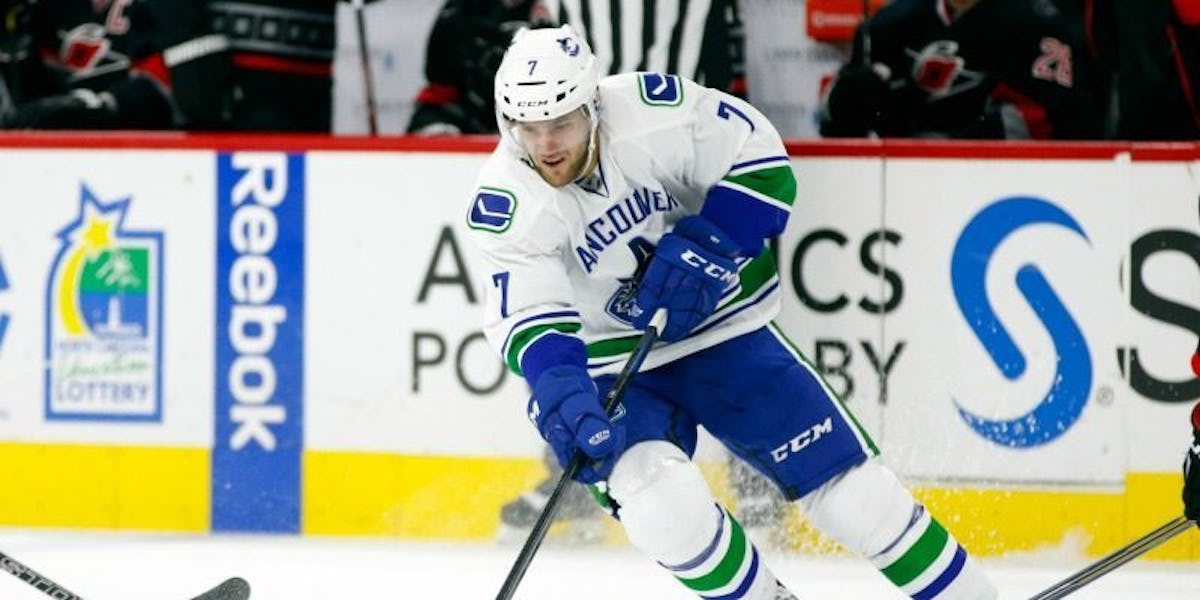 This NHL Star's Dad Is On Trial For An Insane Family Murder Conspiracy
USA TODAY Sports
One of the NHL's brightest young stars is in serious jeopardy of having his career crash and burn before it even takes flight -- and it's not even his fault.
The Vancouver Canucks' Linden Vey should be developing as a premier hockey talent, but since 2013, he's been dealing with an off-ice issue almost too ridiculous to believe.
According to reports, on May 24, Vey's father, Curtis, will stand trial with Angela Nicholson, his alleged mistress, for conspiracy to murder their spouses.
Yes, Linden Vey's father is accused of plotting to murder his mother. Gee, I wonder why Vey's hockey game has been struggling the past two seasons.
Curtis Vey and Angela Nicholson were reportedly involved in an affair, and their alleged plan involved killing Linden Vey's mom, Brigitte, in a house fire, and Angela Nicholson's husband, Jim Taylor, via a drug overdose.
Speaking on the current scandal his family is coping with, Linden Vey reportedly said,
It changes your life. Your life is a certain way for so many years and all of a sudden, you wake up one day and it's totally different. But I'm not going to sit here and say it's part of the reason I've had two of the worst seasons of my career.
Dude, it's OK. I think it's more than fair for you to use the my-dad-plotted-to-kill-my-mom excuse for your sub-par play.
Vey reportedly added,
It's a tough situation for me. Sometimes, when you have something like that weighing on your mind, it's tough to be super focused. Everybody has something to go through. Life is never easy.
The 24-year-old Vey finds himself in a situation few will ever experience in life. You can only hope it will make him stronger, both on and off the ice, in the years ahead.
Citations: Canuck caught up in alleged family murder conspiracy (The Province)