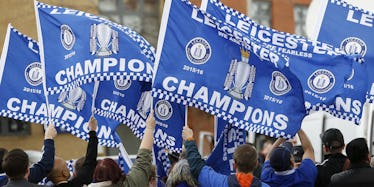 Here's What Leicester City's Triumph Means For Their Financial Future
Reuters Staff/Reuters
Prior to the start of the Barclays Premier League, Leicester City were given 5,000-1 odds to be crowned champions. But with Tottenham's 2-2 draw at Stamford Bridge yesterday, they defied the odds and are now champions. Written off as relegation candidates, the Foxes have completed one of the most remarkable stories in the history of English soccer, and possibly that of sports as a whole.
Just three months ago, with teams playing 22 out of 38 games, the table looked as such:
1. Arsenal – 44 points 2. Leicester City – 44 points 3. Manchester City – 43 points 4. Tottenham Hotspur – 39 points
As with most of the soccer world, I still wasn't convinced Leicester City would hold their remarkable form and become champions as I predicted. Boy, was I wrong.
During the 2014-15 season, The Foxes spent 140 days at the bottom of the table, and if it wasn't for seven wins in their last nine matches, they would have returned to the Championship. Leicester finished last season in 14th place, amassing 41 points and missing the relegation zone by six points. This season, with two more matches left to play, they Foxes have accumulated 77 points, securing the title and a place in next year's UEFA Champions League.
Another reason the Foxes were written off as basement dwellers in the Premier League was because former coach Nigel Pearson was sacked the day before the transfer window officially opened. They entered the off-season without a coach and lacked direction of next steps to build off their remarkable escape from relegation.
Then came the fact Thai ownership group, King Power Duty Free, hired Claudio Ranieri to be in charge of their club. Ranieri was the former coach of the Greece national team, who lost 1-0 at home to Faroe Islands, prompting his sacking. The hiring was widely mocked, but the Italian manager wasn't fazed.
He took a squad costing just £54.4 million (compared to top clubs like Chelsea at £215.6 million, Manchester United at £203 million and Manchester City at £193.8 million), and he spent less than £30 million since last summer. He went about his job quietly, transforming the whimpering Foxes of a year ago into a fierce, competitive and hungry pack.
Prior to this season, since the founding of the Premier League in 1992, there have only been five winners, with Blackburn Rovers in 1994-95 being the only one-time champion. Other winners have been Manchester United (13 times), Chelsea (four), Arsenal (two) and Manchester City (two). Going a little further back into history, Leicester become the first club since Nottingham Forest in 1977-78 to win the English top flight league title for the first time.
Led by striker Jamie Vardy, who rode a similar wave of unprecedented stardom, winger Riyad Mahrez and defensive midfielder N'Golo Kanté (who all made the PFA Player of the Year award shortlist), they defied the odds and proved pundits and fans across the globe wrong.
Players, supporters and management can enjoy the proudest day in the club's history as the history books will read, Leicester City 2015-16 Barclays Premier League Champions.
It isn't just glory and bragging rights for The Foxes. It also means cash, and a lot of it. According to analysis by sports data and marketing firm Repucom, Leicester City FC could be in line to make over £150 million having won the Premier League title this season. (This is a stark jump from the £71.6 million in prize money last season, when they finished 14th.)
Furthermore, the analysis shows that by qualifying and playing no less than six games (there are six group stage games prior to the knockout rounds) in the UEFA Champions League next season, a proportion of the competition's market pool and a participation bonus amounts to a further £33 million. This is aside from a potential performance bonus, which could realistically provide an additional £3 million. On top of that, the increased TV exposure will also generate increased advertisement and sponsorship dollars.