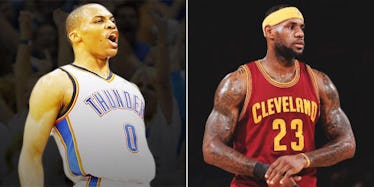 These 4 Players Are The Reason LeBron Might Not Win MVP This Year
Tumblr
The NBA's replay system has killed the tempo of countless games by treating out-of-bounds calls like UN peace talks.
But, the loathed review process has one good rule: There must be overwhelming evidence to reverse a call made on the court.
If the replay shows an ambiguous outcome, officials must stick with the original call, even if strong cases can be made for alternatives. With this in mind, let's look at this year's MVP race:
James Harden, Rockets
The Beard tidied up his defense, became an analytics darling and emerged as Houston's alpha since the disintegration of Dwight Howard's back.
Harden is a potent blend of superstar talent and art-student-on-acid creativity. His offensive strategy could be the subject of a stats class; his handles would be home at Rucker Park, and his step-back jumper should be in the Louvre.
He leads the league in points per game (27) and value over replacement player (5.9).
He's the best-case scenario of himself right now.
Steph Curry, Warriors
This minuscule magician has been loudly clearing his throat as the best player on the league's best team.
He's liable to Keyser Söze an opponent with a barrage of impossible shots at any time. He's putting up averages that nip at the edges of the 40-50-90 club, and he's objectively the league's most deadly offensive player.
The Warriors are a Skrillex remix of the Spurs, and Curry is the drop.
Russell Westbrook, Thunder
Last season's MVP has a foot that doesn't work, but Westbrook has made up for it because he is a basketball terminator that doesn't bruise -- he dents. He is the ultimate eye-test MVP.
When he's on the floor, the Thunder kill at will. When he's off the court, they're a lottery team.
His channeled aggression and absurd athleticism combine to make plays that question the very fabric of reality.
After missing the season's start, Russ has the best plus-minus of any player, and the Thunder are a title contender only because he is a mongoose disguised as a point guard.
Anthony Davis, Pelicans
The Brow has been tantalizing. It's in play for him to rip off four straight MVP seasons in his career, but we're not there yet.
In his first three years, Davis' game has grown like it is being watered by poison ivy. He's an alien that was born on a planet where survival depended upon dunking, blocking shots and feasting on the hopes and dreams of foes.
If/when he learns how to shoot threes, we should invent a new sport because basketball won't be fair anymore.
LeBron James, Cavaliers
LeBron is in the MVP conversation every year for a reason: He's the best player since Jordan, and if he retired today, he'd be in everyone's top 10.
In his 12th season, LeBron is still riding the tail end of his prime. His weight loss and the Cavs' shaky start were mortality checks.
But then, LeBron took a desperately-needed mid-season vacation to recover from four straight trips to the Finals, and a gold-medal run at the Olympics.
He was banged-up, spent and frustrated with his teammates.
Cleveland lost seven of eight games in his absence. But, since his return, the Cavs have been treating the league like orcas treat sea lion pups.
They exchanged the ball-ravenous Dion Waiters for a night-lifeless JR Smith, the eternal flat-top of Iman Shumpert and the Russian beef of Timofey Mozgov.
Then, Coach Blatt took everyone bowling, and the Cavs have been throwing rocks ever since, winning 21 of their last 25 games
LeBron's issue has always been motivation. Since James jumped to the league, he has sought to replicate the brotherhood of his high school squad.
It happened briefly in his first Cleveland stint, definitely happened in Miami and might be happening again as we saw him shrug, smirk and wink his way to a 42-11-5 in the Cavs' dismantling of Golden State.
If 'Bron feels he has something to prove, he is surrounded by his bros and he's in front of a frothing Cleveland crowd; there is no one better, and it is not a close match.
Since his brief sabbatical, LeBron has been LeBronian. If he maintains his current energy, he is the unquestionable MVP of the league.
If the Rockets, Warriors, Thunder or Pelicans could trade their MVP candidate for LeBron just to finish this season, and hypothetically, LeBron would fit seamlessly into their system, all of those teams would make that trade.
The MVP race is close, but no other contender has done enough to overturn the obvious call.