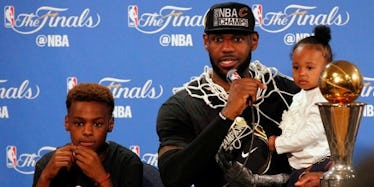 LeBron James' 11-Year-Old Son Apparently Has Offers From Duke, Kentucky
USA TODAY Sports
When your dad is the best basketball player on the planet -- sorry, Steph Curry -- you're undoubtedly expected to inherit at least some of his hoops skills.
In the case of 11-year-old LeBron James Jr., it looks like he's been given the entire family fortune. According to ESPN, LBJ Jr. has "standing scholarship offers" from Duke University and the University of Kentucky.
If you're not a college basketball fan, the Duke Blue Devils and Kentucky Wildcats are coached by Mike Krzyzewski and John Calipari, respectively. They are two of the most successful and prestigious programs in college basketball history.
If choosing between two of the top college basketball teams in the country isn't enough, reports suggest LeBron James Jr. -- who's still 11, by the way -- is also being courted by the Ohio State Buckeyes, another prominent school.
For what it's worth, LeBron James previously stated he would've attended Ohio State if he didn't go to the NBA straight from high school. Whether or not that will have any influence on James Jr.'s decision remains to be seen.
Speaking on the above referenced college offers, LeBron James reportedly said,
Yeah, he's already got some offers from colleges; it's pretty crazy. It should be a violation; you shouldn't be recruiting 10-year-old kids.
That's the responsible thing to say for any dad, but winning an NBA championship in your home state and having your son linked to so many great schools in the same week has to be one of the proudest moments of LeBron James' life.
Citations: LeBron James Jr. Reportedly Has Scholarship Offers from Duke, Kentucky (Bleacher Report)