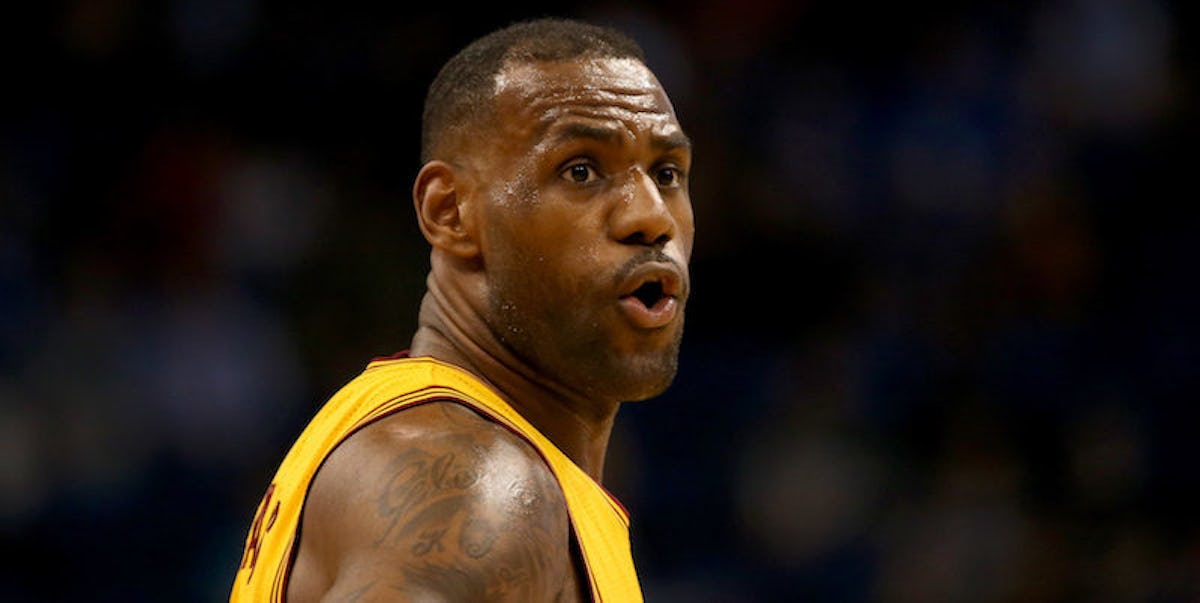 Golfer's Wife Leaves Game On Stretcher After Getting Rocked By LeBron (Video)
Getty Images
Sitting courtside at an NBA game featuring two of the best players on the planet should be the treat of a lifetime, but for superstar golfer Jason Day's wife, it was anything but.
During Thursday's contest between the Oklahoma City Thunder and Cleveland Cavaliers, LeBron James completely took out Jason Day's wife, Ellie, while trying to save a loose ball.
The 250-pound James didn't just fall into Ellie; he wiped her out so bad, you can't even see her once LeBron hits the deck.
Cavaliers' LeBron James crashes into courtside fan pic.twitter.com/DgKbgrbi2s — Ben Golliver (@BenGolliver) December 18, 2015
As a result of the collision, Day's wife was fitted with a protective neck brace and stretchered off the Quicken Loans Arena court.
Ellie reportedly made a full recovery and was released from the hospital Friday morning, but LeBron obviously felt terrible about the whole incident.
James reportedly said,
But to me, obviously her health is very important, and hopefully she's doing well. The guys told us she's doing great now. So, but you know, I was going for a loose ball. Just trying to keep the possession going, and I hate that that was the end result of it.
King James also tweeted his concern and said he hoped Ellie and Jason will come back to the Q real soon.
Ellie Day I hope you're doing okay! My apologies! Hope u guys come back to another game soon. Love LJ! — LeBron James (@KingJames) December 18, 2015
This was a scary moment, but all's well that ends well, right? The Cavs got the win, too, in case you were wondering.
Citations: LeBron crushes Jason Day's wife on the sideline of NBA game (Mashable), LeBron James careens into seats; Jason Day's wife stretchered off (ESPN)