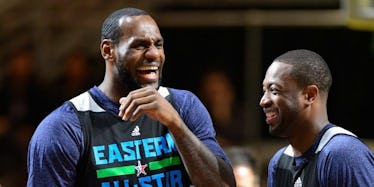 LeBron James, Chris Paul And Dwyane Wade Are Having An Epic Time On Vacation
USA TODAY Sports
After finally bringing a professional sports championship to the long-suffering city of Cleveland, LeBron James deserves a vacation. Plain and simple.
And, even though they didn't win an NBA championship this year, Dwyane Wade and Chris Paul deserve some time away, too.
These NBA superstars work and train harder than most players in the league, so if they want to take a group vacation to Spain with their significant others and Snapchat the shit out of it, that's absolutely within their right.
From the looks of it, LeBron James, Chris Paul and Dwyane Wade aren't just enjoying some time off, they're taking Spain for all it's worth.
As you can see in the video below, they even have their own Snapchat filter!
Wade's snap story & geo filter pic.twitter.com/hcuLqxtWMR — OTN (@OnlyTheNBA) June 29, 2016
Is Dwyane Wade sober? Probably not, but who cares?
What's a vacation without a lip sync battle, right?
You already know LeBron James is a big Fetty Wap fan.
LeBron also had to throw it back and break out the Ja Rule.
Don't worry, Dwyane Wade's wife, Gabby Union, also got in on the karaoke action.
Gabby killed the impression at the end tho pic.twitter.com/uXibKweAqg — Rob Perez (@World_Wide_Wob) June 30, 2016
Annnnnnd, this one looks like it probably never should've been put on social media.
LeBron James, Dwyane Wade, Chris Paul and company eventually called it a night, but only because they had a wine tour in the morning!
Keep living the dream, guys.
Citations: LeBron James, Dwyane Wade, and Chris Paul Are Snapchatting Their Vacation, and It's Amazing (Complex)