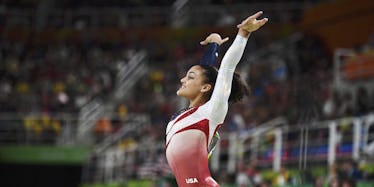 We Should All Use Olympic Gymnast Laurie Hernandez's Mantra On A Daily Basis
Reuters
The 2016 Olympics has proven to be a very GIF-able event so far.
First, we got the gift of #PhelpsFace, and now, Olympic gymnast Laurie Hernandez is winning everyone's hearts with her motivational pre-routine pep talk.
Hernandez took home a gold medal for Team USA last night in the all-around competition for women's gymnastics, achieving the first ever repeat gold in that category for an American team. Go, Hernandez!
Nerves are obviously not an issue for this sassy, adorable gymnast, and she didn't accomplish this by psyching herself out before her routine.
No, she took her confidence to the next level with a classic mantra. It's pretty inspiring.
In the GIF below, you can see her telling herself, "I got this."
Hell yeah, she did. Her confidence also was apparent right before her floor routine, when she winked at the judges.
That kind of move could make or break a huge moment like this. For Hernandez, it worked out. The judges — and America — totally ate it up.
This is, by definition, putting your game face on.
The biggest takeaway from this awesome moment is that in the face of fear, you just have to wink and tell yourself, "I got this." The power of mantras is real, no matter how hokey you think they are.
Even if 100 people told you, "You got this," you won't reach your true potential unless you believe it yourself.
Even if you say it in your own head to yourself, hearing yourself say the words can be so powerful.
Hernandez didn't show one sign of being nervous. The 16-year-old looked excited to be there and like she was having a blast. That's probably part of why her performance earned her the gold.
Positive energy can make a huge difference.
Citations: By Jordan Crucchiola 8 Shares Share 7 Tweet 0 Share 0 Pin It 1 Email 1 Print Gymnastics - Artistic - Olympics: Day 4 Photo: David Ramos/2016 Getty Images While #PhelpsFace will likely take the title of most enduring meme of the 2016 Olympic Games, the most important GIF comes courtesy of sudden superstar Laurie Hernandez, who achieved two crucial honors last night in Rio: becoming a gold medalist in the women's gymnastics team all-around competition — the first repeat gold in that category ever for an American squad — and becoming Team USA's Olympic Sweetheart. Hernandez was the most animated member of the Final Five on the podium when her team was receiving its gold medals. She inspired a nation to adopt the mantra "You got this" before undertaking any considerable challenge in their daily lives. Follow Hannah Sampson ✔ @hannahbsampson Adopting the @lzhernandez02 "I got this" before doing anything that scares me from now on. #Olympics 11:21 PM - 9 Aug 2016 5,008 5,008 Retweets 8,466 8,466 likes And she made us all believe joy is possible again in the abominable year that is 2016 when she played to the camera like a media-trained young professional beyond her 16 years. Follow Daniel Drezner ✔ @dandrezner This should cheer anyone up. 11:38 PM - 9 Aug 2016 451 451 Retweets 988 988 likes But it was the move she made just before setting it off in her floor routine last night that encapsulates the spirit of American exceptionalism and the most dominating performances of our top athletes in Rio. Laurie Hernandez, in her first major international competition, winked at the judges before the biggest floor routine of her elite gymnastics life. And then she crushed it. Laurie Hernandez winking is Michael Phelps getting revenge on Chad le Clos for beating him in the 200-meter butterfly event at the 2012 Olympic Games in London. Laurie Hernandez winking is Lilly King wagging her finger at a Russian swimmer caught for doping, and then saying on TV that Americans compete clean after beating said Russian in head-to-head competition. Laurie Hernandez winking is Katie Ledecky being undefeated so far in major international competitions. Laurie Hernandez winking before a routine is a gamble that had the potential to pay off big. Laurie Hernandez winking is America. The wink is our new handshake, our new national gesture of greeting. So if you meet someone new today, make sure to give them a confident wink and start the conversation with "You got this," because that's what Laurie Hernandez would do. And Laurie Hernandez is a winner. TAGS:LOVE AND WARRIO OLYMPICSTV2016 OLYMPICSMORE Share on Facebook Tweet this Story by Taboola Promoted Links More to Explore Sparta : The Best Free and Addicting Online Strategy Game Sparta Online Game Why Ladies Love These Sheets Business Insider | Brooklinen 18 Creative Survival Hacks You NEED To Know Mental Flare Forget Yoga Pants. These Are What You Should Be Wearing This Summer American Giant | Refinery29 Switching Careers? Read Our Guide to Coding Bootcamps Uncubed by devbootcamp How To Get Longer and Straighter Shots - In Just Minutes iS1 11 Cult Condiments You Can Buy on Amazon NYMag - The Strategist This Onesie, Created by an Exhausted Mom, Got My Baby to Sleep Through the Night NYMag - The Strategist I Found the Best Nail Clipper at the Airport in Japan NYMag - The Strategist 1 Comment Add a Comment FernReno 1 hour ago Totally adorable. FlagLike1 person likes this.Reply Top Stories Fall Fashion Goes Topsy-turvy Derek Blasberg Is the Truman Capote of Instagram Suicide Squad Star Karen Fukuhara on Fighting for Her Career MOST VIEWED STORIES Google Employee Vanessa Marcotte Is the Third Female Jogger Killed in 9 Days 3.9k Shares Share Tweet The Media's Olympics Coverage Reminds Us Just How Taxing It Is to Be a Female Athlete 41.8k Shares Share Tweet Katherine Heigl Shouldn't Apologize to Seth Rogen 338 Shares Share Tweet Winona Ryder Forever: How the Gen-X Icon Kept Her Cool 16.5k Shares Share Tweet Poor Ryan Lochte Didn't Realize the Chlorine Would Turn His Gray Dye Job Green 149 Shares Share Tweet Ask a Boss: My Co-worker Is a Twitter Troll! 1.2k Shares Share Tweet USA Men's Basketball Players Become Cheerleaders at the Olympics 69 Shares Share Tweet With 14 Teen Girls Missing in the Bronx, City Councilmember Fears Sex-Trafficking Ring 18.4k Shares Share Tweet Gymnast Laurie Hernandez Winking Before a Routine Is the Best GIF From the Rio Olympics 8 Shares Share Tweet Donald Trump and the Long History of White Men Claiming Fraud 1.9k Shares Share Tweet From Our Partners goop The Lipstick Rule—Is It True? HuffPost Parents The 18 Life Skills Every 18-Year-Old Needs POPSUGAR Fashion If Malia Obama Spotted These ASOS Pieces, We Suspect She Would Totally Scoop Them Up College Fashion How the Girls of Harry Potter Would Dress in 2016powered by PubExchange THE CUT'S LATEST LOVE AND WAR FEATURES 8 mins ago Beyoncé Does Not Let Riding a Jet Ski Get in the Way of Her Wearing a Gown Vroom vroom. 18 mins ago Olympic Champion Gymnasts, So Embarrassed by Their Parents Aly Raisman and Simone Biles would like their parents to cool it. 9:38 a.m. Simone Biles Has a Life-size Zac Efron Cutout, and Honestly, Zac Efron Should Be Flattered "I used to kiss him on the cheek!" 9:30 a.m. Chad Says Bachelor in Paradise Framed Him He claims he did not actually poop in his pants. 9:14 a.m. Meryl Streep Confused by Snapchat and Sexting and Honestly, Same What's the difference again? 9:07 a.m. Gymnast Laurie Hernandez Winking Before a Routine Is the Best GIF From the Rio Olympics She is America. 8:30 a.m. Ask Polly: Am I Too Uptight? Practice letting go of control a little. 8:00 a.m. Derek Blasberg Is the Truman Capote of Instagram The selfie everyone wants to be in is the one with him. Yesterday at 6:32 p.m. The U.S. Women's Gymnastics Team Just Won Gold By the largest margin on record with the current scoring system. Yesterday at 5:57 p.m. Are Katy Perry and Orlando Bloom Chill or Gross? The eternal question. (The Cut)