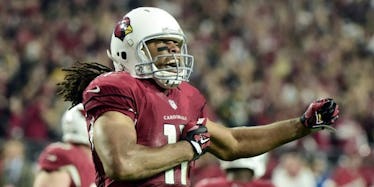 Larry Fitzgerald Dropped The Realest Draft-Day Advice On NFL Prospects
USA TODAY Sports
Hey, potential NFL Draftees, Arizona Cardinals veteran wide receiver Larry Fitzgerald has some advice for you to ponder over the next few hours.
In a recent piece for The Players' Tribune, Fitzgerald penned a heartfelt, open and honest letter to the next wave of NFL players.
He wrote,
Nervous? I feel you. I remember back when I was in your position. I felt that same excitement and the eagerness you're experiencing right now. You're so close, man. I also still recall the uneasiness that you're probably feeling right now. There's a lot of uncertainty about what the future holds. When many of you were looking at colleges, you had your pick of several schools and got to choose the right one for you. Now, all you can do is sit back, wait and hope that the right NFL team chooses you. That's kind of daunting.
Daunting, indeed. Tonight, in Chicago, the 2016 NFL Draft will get underway, thus unofficially kicking off yet another NFL season. Who will get drafted first overall? Get traded? Who will end up where once all is said and done?
The questions are endless, but the answers are few and far between, which is probably why one of the most established veterans in the league decided to write something directly to these young men.
Fitzgerald first asked the future NFL players to take a minute and recognize how far they've already come, writing,
... try to take a step back and appreciate what's about to happen. You're going to become an employee of the most popular sports league on the planet. Not a lot of people get their dream job immediately out of college, but you're one of the lucky few. That's a pretty amazing accomplishment on its own, and one you can take pride in forever. From this day forward, regardless of what happens next, you will always have the distinction of being drafted to play in the NFL.
Then, he didn't mince words telling the best, young football players in the country to get to work. He wrote,
But now in the NFL, there are no weak links. You're playing against men – against professionals – and every single one of them is probably just as driven and passionate about this game as you are. If you're a competitor, this is truly the opportunity of a lifetime. The NFL is the highest level of competition there is, and if you can prove it here, you'll be remembered forever. There's just no way to replicate Sundays.
Fitzgerald wants the next generation of NFL stars to believe in themselves and their abilities, but he makes it clear the best thing a rookie can do is "keep your mouth shut and your eyes open."
He also advised young players to keep their "inner circle both small and honest."
He wrote,
Some people won't make the cut, but that's just life.
Basically, if you heed Fitzgerald's advice to work harder than anyone else, pay attention to and learn from veterans and "be an asset to your organization on and off the field," you'll have a long and successful NFL career.
Fitzgerald finished with a few simple words. He said,
Congratulations for what you've accomplished thus far and for what's to come. You've earned it. See you on Sunday, Larry Fitzgerald
Y'all ready for this?
Citations: An Open Letter to the 2016 NFL Draft Class (The Players' Tribune)