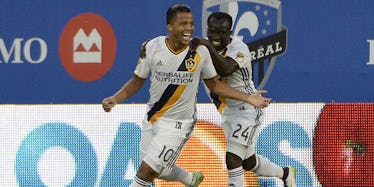 The LA Galaxy Needed The Dirtiest Goal Ever To Beat An Amatuer Team
USA TODAY SPORTS
This – especially from the LA Galaxy – is just all-around weak and pathetic.
The five-time MLS champions found themselves competing against an amateur team in the US Open Cup, which is basically an invitational that practically any team can join. The smaller teams usually knock each other out during the earlier rounds, and the bigger teams – like the Galaxy – enter late and usually finish them off.
Despite the fact that LA was playing against La Maquina – a team against whom a win should have been a slam dunk – the Galaxy proceeded to make asses of themselves with a series of plays.
First, the Galaxy practically took the lead by mistake, when one of their players looked like he was trying to control the ball with his chest, only to fortuitously score.
Then, Rafael Garcia got himself sent off via a dumb-as-hell two-footed tackle that even American referees could see was worth a red card.
Then, they allowed La Maquina to tie the game with a comedic error from their captain that night, A.J. DeLaGarza.
La Maquina held the Galaxy to force overtime, at which point LA scored one of the weakest goals of all time in order to take a 2-1 lead. As one of their players laid on the ground "injured," another Galaxy teammate scored a goal literally behind the other team's back.
Seriously, dude? You're going to do that and celebrate like you've just won the World Cup?
Sure, the match ended 4-1. But only after a dirty goal in extra time that would have knocked the air out of any team. So, it's still safe to say that this is one of the worst wins on American soil in a while.