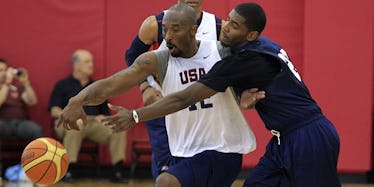 Kyrie Irving Bet Kobe Bryant An Insane Amount Of Money He'd Beat Him 1-On-1
REUTERS
What a difference four years have made for Kobe Bryant and Kyrie Irving.
During the run-up to Team USA's successful run at the 2012 Summer Olympics, Kyrie was just a young buck in the NBA and Kobe was the top dog on the national basketball team headed to London.
But while Kyrie was only a part of the USA Select team -- the practice squad, basically -- he still had the stones to challenge Kobe to a game of one-on-one.
Here's the infamous video from that challenge in 2012.
While the two agreed to play for $50,000 the following summer, the game never took place as Kobe suffered a season-ending injury during the 2012-2013 season.
But despite the fact Kobe is retired and Kyrie's the one who will be running the show for Team USA at the 2016 Summer Olympics in Brazil, Kyrie said he still wants that one-on-one game.
It's just unbelievable to even realize how far we've all come in that short of time. Being a young kid in 2012, challenging one of the best players to ever play the game, thinking about his mentorship of me now and me being able to grow as a basketball player and a man, there's nothing like it. I still want the 1-on-1 game, and I know that if I texted him right now and I said, 'Come to Vegas,' and we had this same bet on the line, I don't know what he would say but I know he would have some words for me.
Yeah, uh, after multiple season-ending injuries suffered by Kobe in the past few years, this ship just might've sailed, Kyrie. But if anyone can find a time machine, let's make this happen.
Citations: Kyrie Irving Talks About the Time He Challenged Kobe Bryant to a Game of 1-on-1 for $50K (Complex), NBA TV's Jared Greenberg speaks with Kyrie Irving who has been selected to the 2016 U.S. Men's National basketball team who will compete in the 2016 Olympics in Brazil. (NBA.com), USA Men's Select Team Announced (USA Basketball)