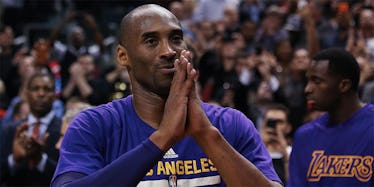 Forced Farewell: Since When Did Everyone Start Liking Kobe Bryant?
Getty Images
Since when has Kobe been the nice guy?
Ever since Kobe announced his retirement in a heartfelt poem, it has been quite the bizarre scene.
Even as a die-hard Lakers fan who has a love-hate relationship with the purple and gold, these past few weeks have been awkward.
Since when does the general public even like Kobe?
Kobe is revered by many but also vilified by many due to a number of spats with teammates and, oh yeah, a certain legal incident in 2003.
Who can forget the most public of spats with Shaq, two alpha-males who demanded the ball and the spotlight.
These differences reached a boiling point and Shaq demanded a trade, which eventually landed him in Miami.
Following the trade, Kobe mentioned that he did not influence the Lakers' decisions regarding the decision, but c'mon you believed that?
Then there were the public barbs between the pair after they were teammates, when Shaq rapped about Kobe and when Kobe didn't attend Shaq's jersey retirement ceremony at Staples Center.
How about his recent feud with Pau Gasol, where he unfollowed him on Twitter for a time, and rumors swirled that he and his wife were the reasons Gasol and his girlfriend broke up?
Or how about when he called Smush Parker "the worst" and that "he shouldn't have been in the NBA?"
Or most recently, when he didn't believe Dwight Howard had the drive or determination to dominate and be a great Lakers' center?
It's no wonder Kobe was rated as one of the most disliked players in the NBA in 2011, with a dislike percentage of 45 percent.
Only LeBron James at 48 percent (after his "decision") and Kris Humphries at 50 percent (after his quick marriage/divorce to Kim Kardashian) topped Kobe on this list.
Despite all these incidents, there seems to be a complete reversal of public opinion in regards to Kobe.
Since his announcement, Kobe has been met by cheers, MVP chants and standing ovations.
Fans are treating the once-hated superstar with respect and admiration, and treating these games as a sort of curtain call for Kobe, as there won't be an encore.
But what is most bizarre is, how suddenly Kobe is the nice guy to the public, media and even his teammates.
Before his announcement, when has he coached teammates or offered advice during games?
For that matter, when has he portrayed positive encouragement and high-fived players multiple times in a game?
Kobe is giving the impression that he is passing the reigns to younger players like Clarkson, Randle and Russell, but he still is the same selfish player he always was.
He is putting up a ridiculous amount of shots (about 18 per game) for a retiring vet on a terrible team. He's doing it all for a Lakers team that is dead last in the Western Conference, and shooting a horrible 31 percent while doing it.
He is averaging less assists and rebounds this year, compared to his career averages, but taking almost double the amount of three point attempts, shooting a ghastly 22 percent.
Kobe's terrible play has created a shocking and bizarre site, while the Lakers have become a sideshow.
(On a side note, it's a pretty good deal for head coach Byron Scott, as there seems to be no pressure for him to perform at all this year.)
That edge, the black mamba's venom, is all but gone.
Yes Kobe is one of the greatest NBA players of all time, but why does this farewell tour feel like it is forced instead of a natural occurrence?
Even his post-game press conferences seem strange.
Laughing and joking with the media and showing a side that has not existed in the past 20 years.
The once opinionated, never-wrong and bullish mentality he has put up over his career has just vanished into thin air.
The five-time NBA Champion is now smiling and joking throughout games and is (dare I say it) good-natured?
Oh yeah then there is that other part where Kobe hired a film crew to follow him throughout his final season.
A little much, maybe?