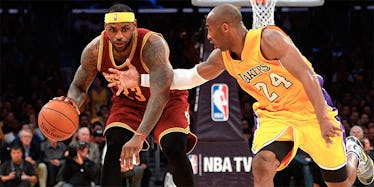 New Report Says The Lakers Once Tried To Trade Kobe Bryant For LeBron James
Getty Images
LeBron James and Kobe Bryant may have never met in the NBA Finals, but they were closer to visiting each other's cities than people think.
According to ESPN's Brian Windhorst, the LA Lakers once called the Cleveland Cavaliers to inquire about the possibility of a Kobe-for-LeBron swap.
Windhorst says this trade inquiry happened in 2007 after James made his first Finals appearance. During this period, Kobe famously and publicly stated he wanted to be traded away from the Lakers, with Chicago, Phoenix and San Antonio reported as his preferred destinations.
This week, Kobe reflected back on that summer, telling ESPN's Baxter Holmes,
At that time, the Lakers had to do something. I was just losing faith in what they were trying to do. It was like I was a meal ticket.
Also, important to note is the source of this info, Brian Windhorst, a reporter and NBA insider from Ohio who made his name by covering all things LeBron James practically from birth (and that's only a slight exaggeration).
Ultimately, the Cavaliers' answer appeared to be a flat "no" before they attempted to test the Lakers' interest in doing a trade of a package of other players on the Cleveland roster.
The Lakers had zero interest in that.
As for Kobe's opinion on this? He told Holmes,
I never would've approved it. Never. The trade to go to Cleveland? Never.
But, hey. For at least a moment, it was in question.
Citations: Ultimate what-if: Sources reveal 2007 Kobe-for-LeBron trade talk (ESPN)