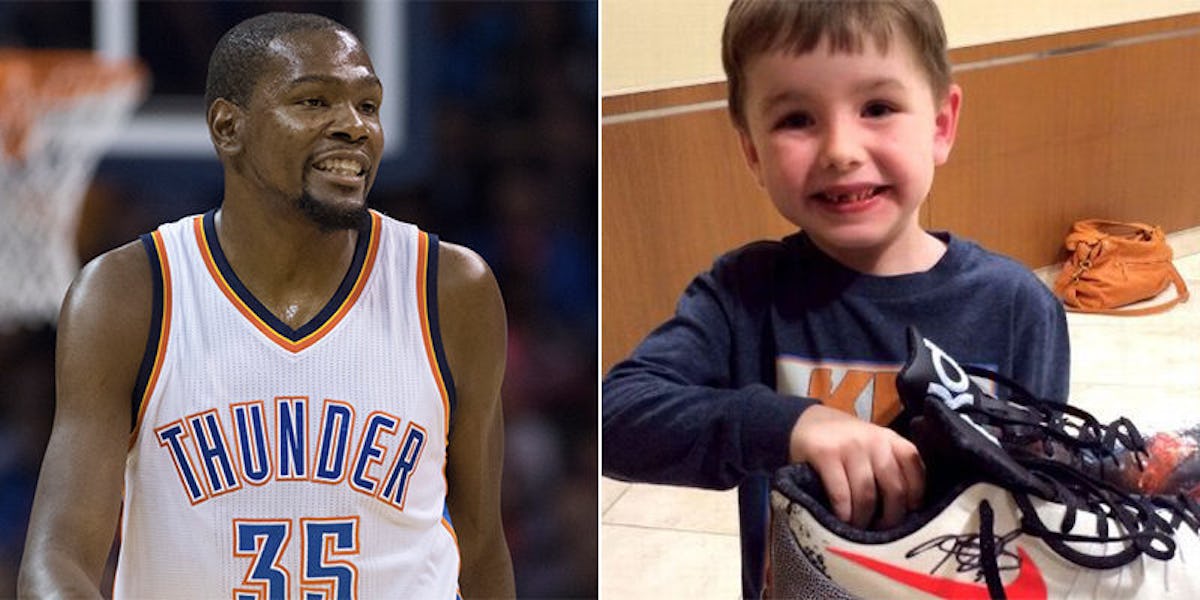 Kevin Durant Gives 5-Year-Old Cancer Survivor A Pair Of His Game Shoes
Getty Images/Twitter
This year is off to a flying start for 5-year-old Keaton Barron.
It was the first week of 2016, and he already beat cancer and planned a trip to Disney -- duh -- so all that was left to do was meet his hero, Kevin Durant.
Barron attended Monday night's Thunder game in Oklahoma City and held up a sign citing his two accomplishments and his yet-to-be-completed goal of meeting KD.
Well, KD saw Keaton's sign and made his way over to the young fan at halftime to autograph the sign and gift him the sneakers he wore for the Thunder's Christmas Day game against the Bulls.
From last night. Kevin Durant provides inspiration and an unforgettable moment for one little boy with cancer. pic.twitter.com/zuvmBbOEyY — OKC THUNDER (@okcthunder) January 5, 2016
Keaton, who officially beat cancer on December 27, wears a size 2.5 sneaker, but he has plans of wearing KD's size-18 kicks when he gets "bigger," ESPN reports.
.@KDTrey5 grants cancer survivor's wish. "I've been waiting to meet him my whole life." https://t.co/hxo3OKwOwh pic.twitter.com/TcweOl34cL — David Payne Purdum (@DavidPurdum) January 7, 2016
Kevin Durant is the real MVP, indeed.
Citations: Kevin Durant gave a 5-year-old cancer survivor his Christmas Day game shoes (SB Nation)