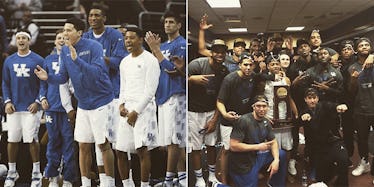 Kentucky's Pursuit Of Perfection Is Ridiculously Increasing Ticket Prices
Instagram
The Kentucky Wildcats are just two wins away from cementing their place in NCAA history.
Taking their 38th win in nail-biting fashion against Notre Dame in the Elite Eight last weekend, John Calipari's team will now face West Regional champ Wisconsin in the Final Four at Lucas Oil Stadium this Saturday.
It's been nearly 40 years since the last perfect season, when the Indiana Hoosiers pulled it off in 1976. Kentucky's quest is quite different, however.
Juxtaposed with Indiana's leadership from upperclassmen, Kentucky is equipped with a youthful core of future NBA talent and boasts a pair of freshmen starters in Karl-Anthony Towns and Trey Lyles. Junior Willie Cauley-Stein is the oldest Wildcats starter, at 21.
Kentucky's matchup with Wisconsin this Saturday is being considered one of the most anticipated games of the season. In fact, so much hype exists that Final Four ticket prices are reaching record highs on the secondary market.
Attribute that to the team's on-court dominance all season long or its close proximity to Indianapolis, but fans will have to pony up big to get past the turnstile at Lucas Oil Stadium this weekend.
According to ticket aggregator TiqIQ, the average price for 2015 Final Four tickets is $1,054.34 on the secondary market, which is easily the most expensive since at least 2011.
Prior to this year, the most expensive Final Four was in 2013, when tickets averaged at $1,032.48 in Atlanta. Those tickets honor both games on Saturday, including the earlier bout between Duke and Michigan State.
Have few piggy banks lying around? Good because you'll need them just to get into Lucas Oil this weekend. The cheapest ticket available for both Final Four games is currently listed for $277.
Along with the excitement and surplus of storylines surrounding this year's Final Four, short travel distances have also influenced ticket prices on the secondary market. The University of Kentucky is less than 200 miles south of Indianapolis, the closest school still remaining in the tournament.
Michigan State University and the University of Wisconsin at Madison are 259 and 330 miles away, respectively. Duke is the farthest campus at 606 miles, but no distance is too great a commute when competing for college basketball's top honor.
Fans will, again, see historical secondary ticket prices for Monday's national championship game. The average price for NCAA national championship game tickets on TiqIQ is $666.48, which is also the most expensive in at least the last five years.
It's 18.8 percent more expensive than the title game from 2013 between Louisville and Michigan. If Kentucky were to eliminate Wisconsin and advance, it's safe to assume prices will jump in the two-day window between the Final Four and title game.
Any change left over in those piggy banks? The get-in price for Monday's game starts at $175.
The Wildcats will first have to get through Wisconsin's Frank Kaminsky and Sam Dekker before they consider Monday's championship game.
Dekker carried the Badgers past Arizona in the Elite Eight and dropped 27 points on the Wildcats, including a memorable rainbow three-pointer in the final minutes that served as the last blow to 'Zona.
He'll face a much more physical Wildcats team this weekend, however, and will need the help of big man Kaminsky if they hope to cement the school's second championship game appearance.
If there was ever a time to take down Kentucky, it's now. Notre Dame chipped away and nearly ousted the Wildcats last weekend by slowing down their offensive game and keeping pace with a roster jam packed with All-Americans.
If Wisconsin can keep feeding Kaminsky low and Dekker's shot is on, Saturday's Final Four game has potential to go down in history books.
And, if ticket prices are any indication, it's already written in stone.