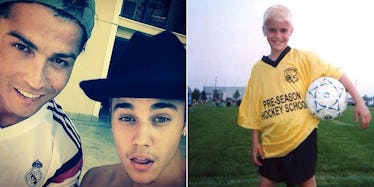 The Complete History Of Justin Bieber's Love Affair With Soccer (Photos)
Twitter
From Snoop Dogg to One Direction to Drake, there's a long, storied history of creative artists and their love for the sport of soccer.
It makes sense, really.
Soccer is the most widely-consumed sport on the planet, and musical stars want to appeal to the largest audience possible.
In many cases, celebrities and musicians will represent with jerseys from multiple soccer clubs, which leads us to believe they don't truly support just one team.
I mean, who else but Drake would wear Manchester United gear one week and pose with a Manchester City jacket the next?
It appears Justin Bieber is also a soccer supporter, but a little digging reveals he's not like other fans who simply hopped on the beautiful game's bandwagon because it was the cool thing to do.
Everyone's favorite Canadian was playing soccer long before you became a diehard Barcelona "fan," and there's photo evidence to prove it.
Here's the complete history of Justin Bieber's love affair with soccer.
Justin Bieber has been playing soccer since way back in the day.
@justinbieber & @itsRyanButler at their soccer game way back when pic.twitter.com/gQX644DxHA — jb. (@__CaraBieber) June 10, 2014
The Ontario, Canada native grew up with the beautiful game.
Did anyone else realize he's wearing a hockey shirt while playing soccer @justinbieber pic.twitter.com/XrsLJJO5A3 — lori purcell (@loripurcell11) February 12, 2014
And we have to say, it looks like his love for the sport is almost as strong as his love for music.
Get better @justinbieber. And we mean at soccer. Aw, we're just kiddin' Biebz. Feel better. http://t.co/64bYjhpeRm pic.twitter.com/PSh7uDXKMm — Radio.com (@Radiodotcom) January 6, 2015
The 21-year-old represents one of the world's biggest teams, FC Barcelona...
#NationalKissASoccerPlayerDay I still consider you as a soccer player @justinbieber come here baby pic.twitter.com/wikyCu1o5s — ℕatalie (@whyhellonatalie) July 16, 2013
...and has also been to England to get decked out in the blue of Chelsea FC.
Nah~ #JustinBieber #jersey #sports #football #soccer #fun pic.twitter.com/6yzCSJkqvd — Dafabet Girls (@DafabetGirls) March 5, 2014
Not to mention he's also donned an Everton FC kit.
Here is some ammo for the #BieberRoast, @justinbieber breaking his foot playing soccer. http://t.co/F87tlKNSKT pic.twitter.com/JszAXU93IZ — DUNK360 (@theDUNK360) January 20, 2015
But the three-time Forbes Celebrity 100 honoree is also out here competing for the love of the game.
Shirtless Soccer Justin Bieber #JustinSoccerSpam #WhatDoYouMean #worthitVMA pic.twitter.com/2kQYa9ZPzx — Soccer hotties (@hotties_soccer) August 29, 2015
Whether he's kicking a ball on the beach with Usher...
@justinbieber is doing soccer with @Usher so cute pic.twitter.com/RB3p8AhkGm — ღ☁️ fb or unf ☁️ღ (@BiebxJauregui) January 27, 2014
...or playing with a group of kids in the street...
.@justinbieber playing soccer with cute kids will put the biggest smile on your face http://t.co/yofREpkFkx pic.twitter.com/srZkGrRCE8 — Just Jared Jr. (@justjaredjr) August 5, 2015
...it's clear Justin Bieber is one of the realest fútbol aficionados we know.
Let's play soccer together sometime @justinbieber pic.twitter.com/yYwrNfynui — † (@that09kidrauhl) October 10, 2014
Canada's finest has even garnered the respect of Cristiano Ronaldo.
My two heroes; my soccer hero and my lifesaver @justinbieber @Cristiano pic.twitter.com/nfTl9ldPCz — Caroline Meier (@CarolineTIWII) August 1, 2014
And he is inspiring young soccer players to go out and compete at the highest level.
WHEN YOUR SCHOOL'S GIRLS SOCCER TEAM MEETS JUSTIN BIEBER!!!!!?????? pic.twitter.com/eOUmB31EHG — jess (@readysets) September 4, 2015
Lionel Messi, who?
My soccer jersey @justinbieber pic.twitter.com/akeIrCahhF — Thalia Ortega (@thaliaiortega) April 18, 2015
Nah, Justin Bieber is the real soccer MVP...
let us play soccer together @justinbieber pic.twitter.com/5FL4tlOJdX — ♡♡♡ (@noranordgren) December 21, 2014
..and he's been doing it for years.
My fave soccer player :) #MTVStars Justin Bieber pic.twitter.com/kPU6KdsCFq — justin bieber♛ (@nahirauhl) December 7, 2014
So, next time you see Justin Bieber rocking a soccer jersey and you're thinking he's just another bandwagon fan...
Not sure of Justin Bieber watches soccer properly... pic.twitter.com/PDlt7hlZCw — Maarten (@Pixelswift) June 20, 2014
...remember, this dude's been out here since he was a little kid.
Best soccer player ever @justinbieber #WeAllAreMonaBieber pic.twitter.com/qQi3F97iG2 — Katy (@BiebsFtCamMbJJ) January 4, 2015
And he's only repping multiple teams because real recognize real.
Looks like @justinbieber really is a Southend United fan after all! @dan_bentley1 you need to get your number back! pic.twitter.com/l0X7obXwVb — Southend United (@SUFCRootsHall) December 6, 2015