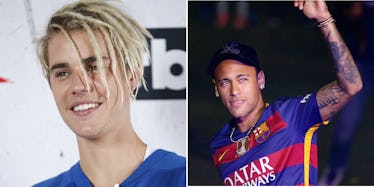 Justin Bieber Invited Neymar To His Backyard And Proved His Soccer Skills
REUTERS
It's only right Neymar's North American tour included a stop in Justin Bieber's backyard.
Since landing in the US, after winning yet another Spanish league title, the FC Barcelona star has been living it up.
He got to check out a Mets game and throw the first pitch at Citi Field.
He even got to take batting practice.
Neymar on the pitch > Neymar in a baseball batting cage ( @Mets) pic.twitter.com/lvGIM8JUUI — Bleacher Report UK (@br_uk) May 31, 2016
Then, he met up with Michael Jordan for a shoe collab.
But the Brazil star had one more order of business: visiting Justin Bieber.
Bieber's made it no secret in the past about how he's a fan of soccer -- he supports Chelsea in the English Premier League, unfortunately -- but his actually futbol skills are questionable.
His control in this video, for instance, looked competent but shaky.
But it looks like Justin saved his finest touches for his best guest because he held his own with Neymar in this video.
Oh, by the way, the most underrated part of this video is definitely the fact that Neymar is chillin' with a beer in his hand. It's just a subtle reminder star athletes go to music icons' backyards to get lit, like our friend OBJ.
But shout out to Biebs, he definitely did his thing here.