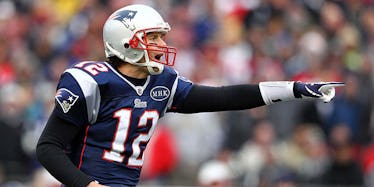 Judge Throws Out Tom Brady's 4-Game Suspension In Deflategate Scandal
The whole Deflategate situation got blown up so crazy because of the media, but not once did Tom Brady ever waver.
Sure deflating balls is kind of cheap, but it really doesn't make too much of a difference. Still, TB12 denied he knew anything about it up until the very end -- and he won.
A federal judge officially nullified Brady's four-game suspension, and it's a huge sigh of relief for the Patriots.
BREAKING: Tom Brady beats NFL in 'Deflategate' court case, judge nullifies league's 4-game suspension. — The Associated Press (@AP) September 3, 2015
Tom Brady fought tirelessly throughout the whole process, and it's really no surprise he eventually won. That's just another perk of being a four-time Super Bowl champion I guess!
This is great news for the New England organization and terrible news for everyone else in the NFL!
Citations: Tom Brady Deflate Gate Federal Judge Throws Out NFL Stars Suspension (NBC News)