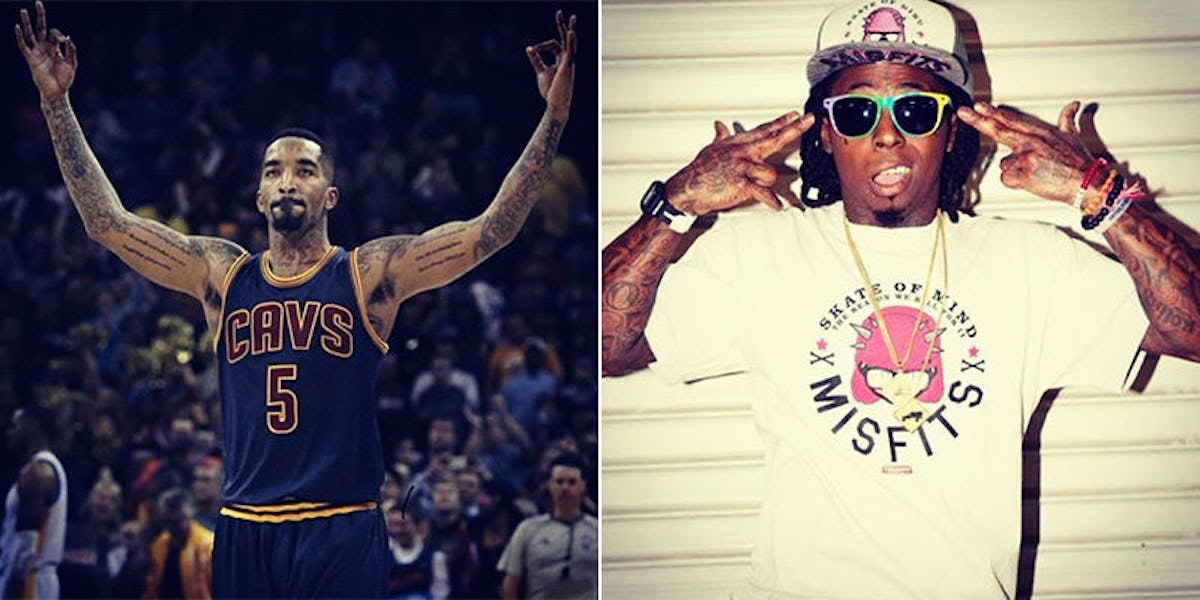 JR Smith Is Statistically A Better Player When Lil Wayne Drops New Music
JR Smith built an NBA career on giving zero f*cks.
That's evident by his shot selection on the court and his decision making off it.
But while he might be one of the most unpredictable athletes in all sports, one thing is for certain: He goes off whenever Lil Wayne drops new music.
A look at how @TheRealJRSmith performs after his favorite rapper drops a mixtape or album: http://t.co/djy5FmHMnjpic.twitter.com/RJT82CJefl — Hashtag Important (@hashtagimprt) July 17, 2015
According to this dope study by Kenny Ducey of Hashtag Important, it's true. Whenever Weezy drops a new album or mixtape, Smith's shooting average jumps up. Way, way up.
Ducey wrote,
Now, I can't guarantee JR listened to these albums and mixtapes before he played in his next game. I can say, though, his shot totals show he's a bit juiced up in these contests. One thing that was evident during the study was that JR hit a hot streak a couple of these times. Most notably, his 32-pt showing in Boston in 2013 was followed by a 35-pt outing, and then a 37-pt performance.
Sure, this might be some crazy coincidence, but mind you, JR Smith actually became one of the first athletes to join Young Money (hence the neck tat), and we all know who his favorite rapper is.
#Wayne RT @JimmerFLoww: @TheRealJRSmith whose ur favorite rapper? — JR Smith (@TheRealJRSmith) December 11, 2012
Citations: Stats prove that JR Smith plays best after a Lil Wayne release (CBS Sports)