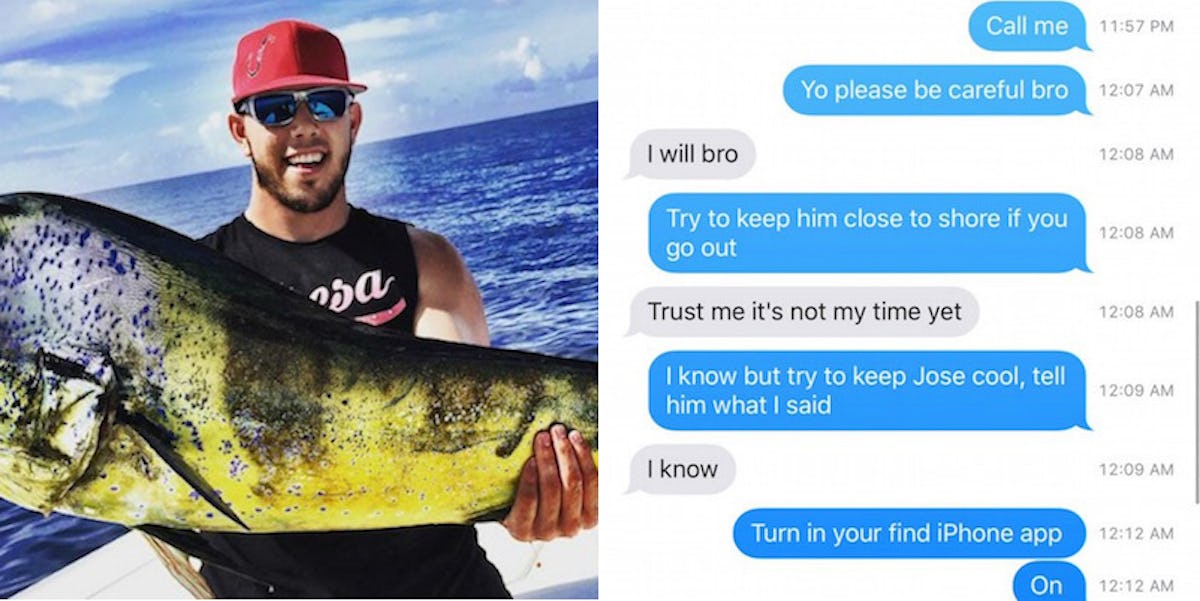 Guy On Boat With José Fernández Sent Eeriest Text Before Fatal Accident
Instagram
On Sunday morning, Miami Marlins pitcher José Fernández was killed in a boating crash along with two friends.
The other men have been identified as Emilio Macias and Eduardo Rivero, but now we have even more details about the unsettling accident.
According to TMZ Sports, the 24-year-old athlete was at a Miami waterfront party spot approximately 90 minutes before the fatal incident.
The source shared that Fernández and at least one of the other men were spotted at American Social Bar & Kitchen at around 2 AM that morning.
It's still unclear if alcohol or illicit drugs played a role in the accident, but we do know Fernández wanted to "blow off some steam" because he was stressed out.
WPLG 10 Miami spoke with friends of Eduardo Rivero and learned he was hesitant to join Fernández on the boat.
The news station also learned Rivero sent an eerie text right before going out on the water.
One of the last messages the 25-year-old man sent before his death was,
Trust me it's not my time yet.
Friends of Rivero have shared the text screenshot on social media along with heartbreaking captions about his death.
Fernández also shared a heartbreaking message on social media to his pregnant girlfriend a week before the accident.
He told Carla Mendoza,
I'm so glad you came into my life. I'm ready for where this journey is gonna take us together. #familyfirst
The Marlins recently shared a statement on the tragic loss of their teammate:
The Miami Marlins organization is devastated by the tragic loss of José Fernández. Our thoughts and prayers are with his family at a very difficult time.
After further examination of the incident, authorities determined the high speed of the boat was a factor in the crash.
According to Emilio Macias' Facebook page, he worked with Wells Fargo doing wealth management. As for Rivero, he was a worker for Carnival Corp.
Our thoughts and prayers are with the families of the three men whose lives were tragically lost this weekend.
Citations: Jose Fernandez Death (Daily Mail), Jose Fernandez Death Text (Bro Bible)