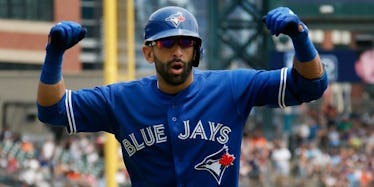 José Bautista Had The Best Reaction To His Epic Bat Flip Going Viral
Getty Images
Yesterday, with one colossal swing, the man they call Joey Bats propelled the Toronto Blue Jays into the American League Championship Series.
Bautista's homer, which followed a controversy that left the Blue Jays down by one, sailed into the upper deck and put Toronto up by three runs going into the eighth inning.
The blast was unreal, but the biggest talking point was Bautista's bat-flip celebration.
Frankly, I don't want to hear about José being cocky or arrogant. He just took his team and the city of Toronto to a place they haven't been since 1993. So, lay off. The bat flip is the least I would do in that situation.
And if the Texas Rangers don't like it, well, I guess the team should have better relief pitching.
Last night, José took to Instagram to provide the greatest message for all the haters.
In the caption, he said,
As I go to bed I think about how I blessed I am to even have gotten the chance to do something so positive for a city like what I did tonight... Much Love Toronto and Mama Canada...
This is how you become a hero.