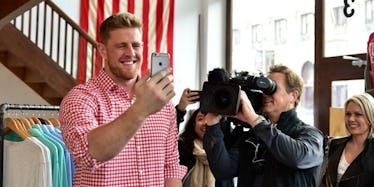 The Full Story Of How JJ Watt Helped A Guy Ask His Crush To Prom
Getty Images
You may have recently heard about defensive end JJ Watt hopping on Snapchat in order to help a teenage Texans fan ask his longtime crush to prom.
As the story goes, Kyle Crochet first reached out to Watt on Twitter in order to enlist his help in asking the young lady.
@JJWatt So there's this girl that I really want to ask to prom and we are both huge fans and I was hoping maybe you could help me out. — Kyle Crochet (@KyleCrochet1) February 29, 2016
Soon after, Watt used his Snapchat story, as you can see in the video above, to share Kyle's story and ask his longtime crush, Diana, to prom.
JJ, being the awesome, yet very real dude he is, not only asked Diana to prom for Kyle, but said he was "legitimately nervous" while awaiting Diana's response.
Just imagine how Kyle felt, JJ.
Of course, Diana agreed to go to prom with Kyle because who turns down a direct proposal from JJ Watt?
YES!!! Y'all who saw the snapchat, meet Kyle & Diana! Glad I could help man. I hope you two have a fantastic prom! https://t.co/RZyBANezus — JJ Watt (@JJWatt) February 29, 2016
@JJWatt BEST WING MAN EVER!!! Thank you so much for helping me get a prom date!! pic.twitter.com/vgqjXYfxGg — Kyle Crochet (@KyleCrochet1) February 29, 2016
Elite Daily has the video of Diana watching JJ's proposal and giving a very affirmative response to his request:
Kyle sent over the videos and told Elite Daily,
As for the whole experience, I'm not exactly sure why he responded to me. I guess there was just something about my tweets that caught his eye, and he decided to help. My date was kinda shocked. She said, 'For sure dude,' and then gave me a high five. But she was just in shock that the whole thing was happening. The past few days have honestly felt like a very long dream that I've yet to wake up from. But this whole experience was great, and I am so very thankful that he could help. I made a point to tell him that I wanted to blow her out of the water and to make sure that there was no way she could say no. He definitely came through with that request.
Indeed he did. Have a great time, guys!