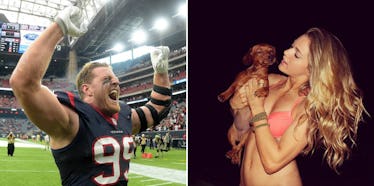 JJ Watt's New Girlfriend Is A Hawaiian Hottie And A Pro Soccer Player
USA TODAY Sports/Instagra
It's official: Houston Texans defensive end JJ Watt is off the market.
Sorry, ladies, but according to multiple reports, it appears Watt is dating Kealia Ohai, a pro soccer player for the Houston Dash.
Can we just take a minute to acknowledge how athletic the children of Watt and Ohai would be? Like, they could literally take over the world.
Anyway, back to the present.
Apparently, rumors of 27-year-old Watt dating 24-year-old Ohai have been flying around for quite some time, and it now appears we can confirm with certainty these two are dating.
Speaking on the 2 Up Front podcast, Kealia Ohai said,
The rumors are true. We are dating. I've known JJ for a really long time, and we've always been really great friends, and yeah, I'm really proud of him for everything he's been going through, but it's been pretty crazy with all the rumors.
Wow! You rarely see a high-profile couple go so public with their relationship, but Watt and Ohai are clearly in love and clearly don't care who knows it.
I'm happy for these two; they make a pretty adorable pair, I must say.
You already know way too much about JJ Watt, so here's a closer look at Kealia Ohai, the Hawaiian hottie pro soccer player who just locked JJ down for real.
Kealia Ohai, 24, just revealed she's dating four-time NFL Pro Bowler JJ Watt.
We all know Watt is a beast on the football field, but Ohai is also a professional athlete.
The Houston Dash forward was born in Utah but has Hawaiian roots.
In fact, the soccer star's dad named her after Kealia Beach in Kauai.
Ohai's brother-in-law is Brian Cushing, JJ Watt's Houston Texans teammate, which might explain how Watt and Ohai initially met.
The 24-year-old bombshell played soccer for the University of North Carolina before making her way to Houston.
While playing for the Tar Heels, she helped UNC capture a National Championship in 2012.
In addition to playing for the Houston Dash, JJ Watt's girlfriend has represented the United States at four different levels.
Ohai scored a huge goal for the US at the 2012 FIFA U-20 World Cup and made her senior national team debut earlier this year.
Kealia Ohai is absolutely gorgeous, and I hope her and JJ Watt live happily ever after.
Citations: Meet Kealia Ohai: Houston Dash Forward & J.J. Watt's Girlfriend (COED), kealiamae (Instagram), J.J. Watt can't hide his stunning girlfriend anymore (New York Post)