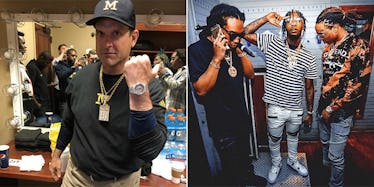 This Migos Concert Proved Jim Harbaugh Is Reliving His Ratchet College Days
Instagram
Jim Harbaugh has the respect of everyone in Michigan and we can see why.
The man is a campus legend, not only because he played quarterback there in the '80s, but because he left the NFL to come back home and re-live his frat days.
So, when Migos comes to town to perform at the school's Spring Fest, you already know the khaki-wearing coach is going to be on stage with them in the middle of the ratchetness. During their performance of "Hannah Montana," you can see Harbaugh start to feel the vibe and eventually turn all the way up.
Jim Harbaugh got drenched with water onstage at Migos. pic.twitter.com/WnX0p0rJSA — Rachel Premack (@rrpre) April 14, 2016
This might just be the best and last legal recruiting tactic in college football. What kid isn't trying to play for a man like this?!
If you thought he was done there, how could he leave without dabbing with the true originators of dabbing? He didn't. Here it is.
Jim Harbaugh dabbing with @Migos was the highlight of my life pic.twitter.com/GPHLkWjdbm — Madi Wiesen (@TylerMadi) April 14, 2016
The party carried on after the show, when Harbaugh joined Migos in their dressing room to try on their ice and continue crushing it.
We can all just hope that we're this lit when we're 52.
YRN JIM A photo posted by QuavoHuncho (@quavohuncho) on Apr 13, 2016 at 6:31pm PDT
In case you were wondering, this moment wasn't awkward at all!
No, Harbaugh is deadass killing it out there and there's a pretty high chance that he'll never come back to the NFL again. He's pretty much Blue from "Old School." You're my boy, Blue!
Backstage with @CoachJim4UM @MGoFish @TremendousUM @SamWebb77 @nickbaumgardner @DavidArnoldCFB pic.twitter.com/xgY1ovHmMb — djlaczyn (@djlaczyn) April 14, 2016