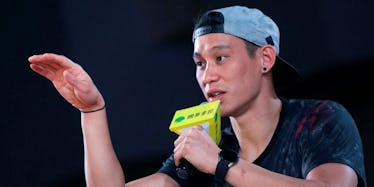 The Nets' Jeremy Lin Has A Crazy New Hairstyle And People Are Freaking Out
REUTERS
It feels like just yesterday I was on cloud nine watching Jeremy Lin light up Madison Square Garden on a nightly basis. Ah, the good ol' days, when Lin was just a wholesome, quiet kid from Harvard.
Well, times have changed, and so has Lin's hairstyle over the years. The 27-year-old point guard has gone from a pretty regular buzz cut to... cornrows?!
Believe it, folks.
Jeremy Lin recently joined his sixth NBA team since going undrafted in 2010, and it seems like a pretty simple adage applies to each new stop on the Jeremy Lin world tour.
This makes sense if you think about it. Sometimes, when people switch locations, they also switch something about themselves in search of a completely new start. In Lin's case, it's his hair.
Here's the thing, though: If he's already at the cornrow stage with the Brooklyn Nets, where the hell is he going to go from here once he moves on? I shudder to even think.
And by the looks of it, Twitter is also bugging out over Jeremy Lin's most radical hairstyle to date.
Jeremy Lin's hair is pic.twitter.com/OpbE8A2ckE — Kicks Deals (@KicksDeals) July 20, 2016
Do you, Jeremy Lin.