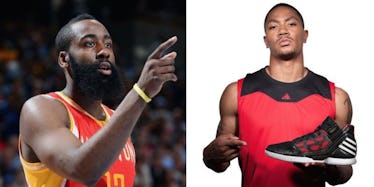 Why James Harden Can Thank D Rose For His $200 Million Opportunity
Getty Images/ adidas
In 2012, following Derrick Rose's lone MVP season, Adidas went all in on the Chicago Bulls' point guard with a 14-year deal worth $185 million -- the wealthiest individual endorsement deal in sports history, at the time.
Things haven't exactly gone according to plan.
Following a series of major injury setbacks for Rose, Adidas' market share has steadily been on the decline since 2012.
And, as of January 2015, the German brand officially lost its number-two position in the US sportswear market to Under Armour.
Ummmm did I fall asleep at the steering wheel of life or what? When did #UnderArmour usurp #Adidas to take worlds No.2 sports brand? Wow! — andrew 앤드류 berglund (@_AndrewInc) March 14, 2015
Nike sits atop the American sportswear ladder, with LeBron James' signature shoe sales pulling in roughly $340 million in 2014.
It's no surprise, really.
Under Armour hit it big in 2014 with NBA MVP and champion Steph Curry; Nike boasts sponsorship deals with the likes of LeBron James and Kevin Durant; while Adidas' Rose has been plagued with injury after injury since signing his mega-deal.
On strength of Steph Curry, Under Armour's footwear business jumped 40% in last 3 months vs 3 months last year. Shoes were 19.6% of UA biz. — Darren Rovell (@darrenrovell) July 23, 2015
At 22, Derrick Rose was the youngest MVP in NBA history, and there was hardly any reason for him, Adidas or the Chicago Bulls to think the next eight years would be any different.
Two months after signing with Adidas, though, Rose tore his left ACL during the Bulls' 2012 postseason opener.
He missed the entire 2012-2013 season.
He was just 10 games into the 2013-2014 season before he required surgery on his right meniscus, causing him to miss the remainder of the year.
The following season, Rose tore that right meniscus, once again requiring surgery.
In addition to these major setbacks, the 26-year-old has experienced numerous ankle sprains along the way, as well.
Is it the shoes?
Following his first major injury, Adidas sunk resources into the "Return of D Rose" campaign, highlighting Rose's rehab efforts.
All of that hard work, from both Rose and Adidas, went out the window following additional major injuries.
For their part, Adidas did what they could to maintain their NBA presence; signing emerging names like Damian Lillard, John Wall and Andrew Wiggins.
But those names, for now at least, can't rival LeBron James, Kevin Durant and Steph Curry.
James Harden can.
And that's exactly why earlier this week, Adidas offered the three-time All-Star $200 million over 13 years to leave Nike.
Talk about going all in.
$200 million is half of what Adidas paid for 11 years as the NBA's official uniform supplier -- a role Nike will overtake after the 2016-2017 season.
If Harden takes the deal, he could potentially make more from Adidas than his team, the Houston Rockets.
Adidas spokesman Michael Ehrlich said,
We've invited James Harden to join Adidas. We're a brand of creators and he truly embodies what that means with his approach to the game, his look and his style on and off the court.
He continued,
He's coming off a historic season where he won the scoring title and was voted MVP by his peers. His connection with fans is unparalleled and unprecedented and he can take the game, our brand and the industry to new heights.
Adidas is offering up the house to land Harden, but with Under Armour cashing in on Steph Curry and golfer Jordan Spieth, while Nike continues to dominate the market with LeBron and KD, the three-stripes brand doesn't really have any other choice.
I mean, can't you just see the Kanye, Kim, Khloe and James ads now?
Nike has until the end of next week to match Adidas' offer or lose James Harden; it's as simple as that.
Don't forget, though, if not for Derrick Rose's complex and chronic injuries, Adidas probably wouldn't have 200 million reasons to sign James Harden.
Citations: Latest Derrick Rose Injury Is Devastating Blow For Adidas Basketball (Forbes), Adidas makes $200M bid to sign Rockets star James Harden (ESPN), Under Armour Overtakes Adidas in U.S. Sportswear Market (The Wall Street Journal), LeBron James Is NBA's Top Shoe Salesman With $340 Million For Nike (Forbes)