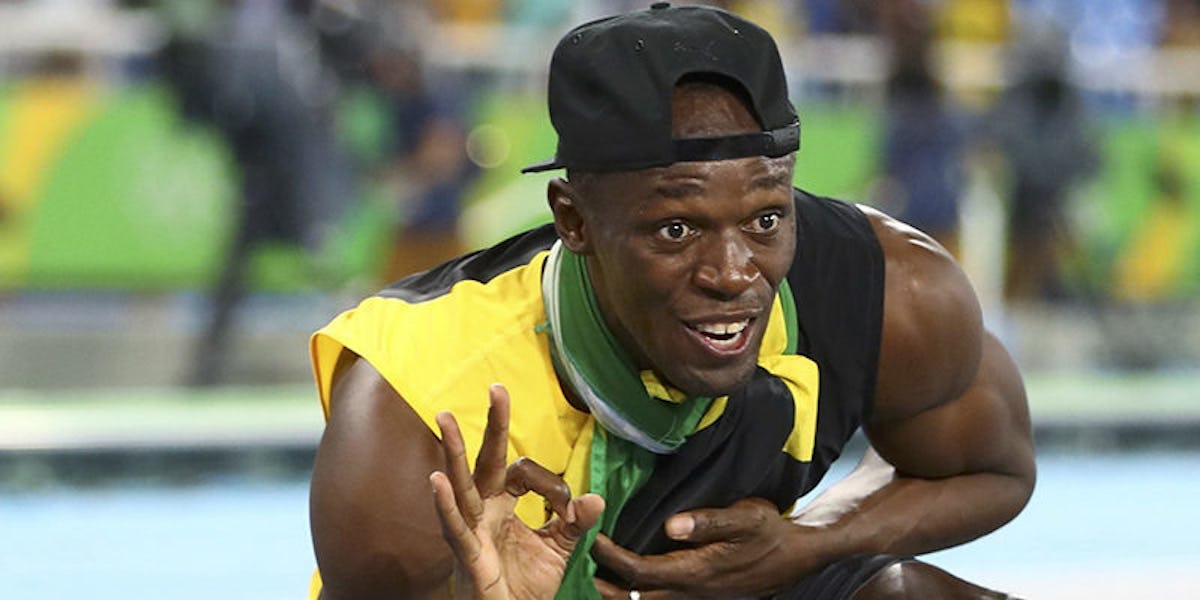 Jamaicans Are So Dominant, They Actually Won All Three Medals In The 4x100
REUTERS
Jamaicans didn't only win the gold medal in the men's 4x100-meter relay race on Friday night at the 2016 Rio Olympics.
In actuality, the Caribbean nation stretched its dominance so far it somehow found a way to take silver and bronze, too.
Gold
Usain Bolt actually took the baton on the anchor leg in a virtual tie with the US and Canada, but like always, he pulled away and pulled off an amazing feat.
The gold medal gave Bolt the unprecedented "triple-triple," a sweep of his three sprints at each of the last three Olympics.
Asafa Powell, who missed the 2012 relay due to injury, came back at 33-years-old to win his second gold in the event.
Silver
When Japan crossed the finish line in second, it was clear why there was such a big surprise: The Japanese had only medaled once before in an Olympic sprint, taking bronze in the 4x100 at the Beijing Olympics in 2008.
The shock was obvious.
The four Japanese teammates were noted for coming on top in the sub-race that occurs in every sprint involving Usain Bolt: Yes, they won the non-Jamaican portion of the event.
Or did they?
Wait - Japanese relay team member Aska Cambridge was born in Jamaica! No wonda dem beat USA — Paul Henriques (@PaulH) August 20, 2016
As most people took notice of Japan's amazing silver medal finish, there was also something else that came to light. Japan's anchor, Asuka "Aska" Cambridge, is half-Jamaican.
Make no mistake, Japan's win was praised as a technical masterclass, and it's worth noting Cambridge began training after he moved to Japan. But yes, Jamaica did indeed have a presence on the silver side of the podium.
Bronze
Andre De Grasse, the bronze medalist in the 100-meter race, may be Usain Bolt's protege, but his teammates are much closer to being like the Jamaican champion.
Canadian sprinters Brendon Rodney and Aaron Brown both have Jamaican parents, and Akeem Haynes was born in Jamaica.
And it's that simple. Jamaica is dominant in track and field, even more so than you think.
Citations: Jamaica spreading its Men's 100m talent across the globe (Jamaica Observer), Running in unique conditions, LIU sprinter Brendon Rodney eyes gold at Rio Olympics (New York Daily News), Japan wins relay silver, relying on technique and teamwork (USA Today)