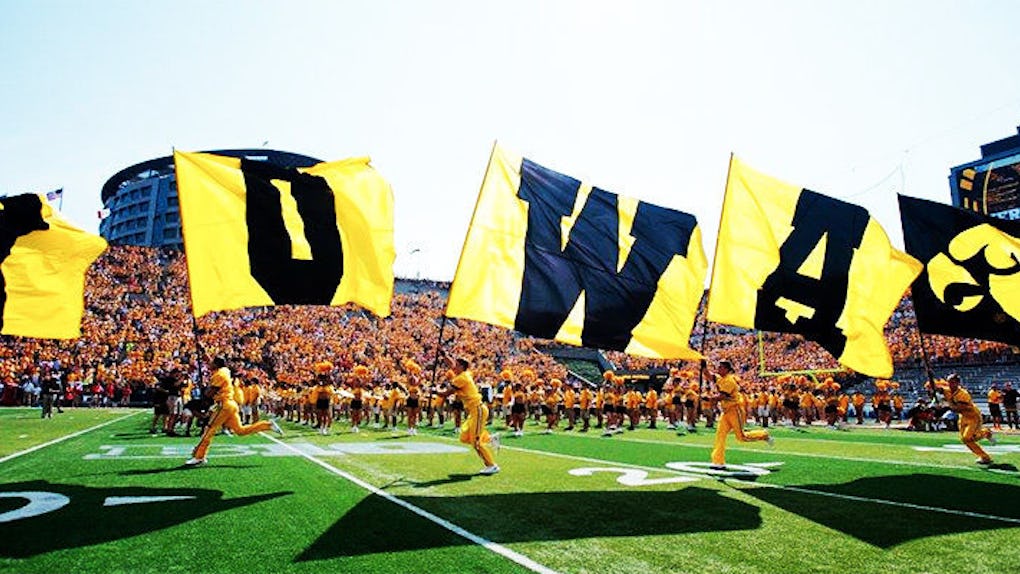 Facebook/University of Iowa
Silence The Haters: 3 Reasons The Iowa Hawkeyes Deserve A Playoff Bid
Most of the conversation surrounding the Iowa football team this year has been focused on the argument that they aren't worthy of the spotlight, their ranking or, frankly, even being in discussion.
Critics have called out their weak schedule, and because the Hawkeyes don't feature a Heisman hopeful like, Derrick Henry, or a high profile coach, like Jim Harbaugh, they're easy to overlook.
What's not easy to overlook? A 9-0 record.
Only five other FBS teams in the nation are currently boasting an undefeated season thus far, meaning that Iowa is in elite company.
While they've yet to beat a team of high caliber, the way Clemson beat Florida State or Oklahoma State beat TCU, they have tallied road wins against ranked Wisconsin and Northwestern teams, bringing truth to the cliché: You can only beat the teams that are on your schedule.
Their perfect record is one of many reasons that Iowa deserves a spot in the college football playoff talk.
Here are three others:
They're resilient
Like many other teams mid-season, injuries have plagued the Hawkeyes in recent weeks. Yet with each fracture, tear and strain, backup players have risen to the challenge.
When running back, Jordan Canzeri, left the Northwestern game with a sprained ankle, Akrum Wadley charged in totaling 204 yards against Northwestern, tying a school record with four touchdowns .
This Iowa Football team is playing with a fiery competitiveness that proves they're on a mission this season. In many ways, it seems like they're playing for far more than just themselves.
The Hawkeyes' helmets don a TS decal this year in honor of former player, Tyler Sash, who passed away this September.
The team was also led onto the field by a former teammate of Sash, Brett Greenwood, who is recovering from a brain injury after suffering a heart arrhythmia in 2011.
Coincidence or not, Desmond King is the first Hawkeye with more than five interceptions in a single season since Greenwood in 2010 and is the first to snag more than two multi-interception games since Sash in 2009.
With his eighth interception against Indiana, King is now tied for the single-season school record with Lou King and Nile Kinnick, Iowa's sole Heisman Trophy winner (and namesake of their football stadium).
They're well rounded.
The Hawkeye team has rallied around quarterback, CJ Beathard.
He exudes a quiet confidence and leadership, propelling his teammates to do the same.
Although Iowa may not offer this year's first round NFL draft pick, the team has continuity and chemistry amongst its multiple threats.
What they lack in a singular standout star, they make up for in talent spread across positions on both sides of the ball.
As coach, Kirk Ferentz, said following last Saturday's win,
This team's laying it out there. They're doing it every week, doing whatever it takes.
This season, whatever it takes looks like last second field goals, recovered fumbles sealing a win, completing long yardage third down situations while holding opponents on theirs, maintaining possession, forcing turnovers and eliminating costly penalties.
Their fourth quarters aren't always pretty, and yet, the Hawkeyes have managed to get the job done, week after week.
They're well coached and well disciplined.
Similar to a team that has experienced an unexpected level of success, Iowa is led by a coach that has to some degree, reinvented himself this year after spending the offseason on the hot seat.
A 7-6 record in 2014 left some fans wondering if the Kirk Ferentz era at Iowa was over. He's silenced his critics by leading his program to match its best start in school history.
Ferentz has displayed a new coaching flare this season, taking risks in running fake field goals and going for it on fourth down. His new bag of tricks has made for a more dynamic and unpredictable team.
Whether or not Iowa gets a spot in the college playoffs has yet to be determined, as three regular season games, including an away game against a Nebraska team that stunned Michigan State and has nothing to lose, and a Big Ten Championship stand in their way.
But if the Hawkeyes have proven one thing this season, you shouldn't count them out.
Bottom line: They're still undefeated and their playoff hopes are still very much alive.