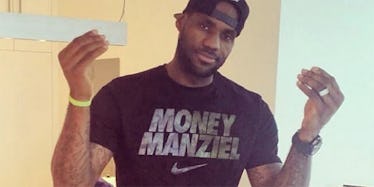 Here's Proof NBA Stars Really Do Play Better After They Get Paid (Photos)
If you thought you had nothing in common with NBA stars, think again.
Basketball players, just like us, love it when that direct deposit hits.
OK, that would be the case for any human being (who doesn't like money?), but what is surprising is just how clearly the stats show some of the NBA's best players have extra pep in their steps after payday.
Twitter user @nbaayy put together a few infographics showing how well a number of the league's top players perform in the immediate games following payday (i.e., the day on or after the first and 15th of every month).
Here are the differences in the players' performances.
LeBron James
Chris Paul
James Harden
Russell Westbrook