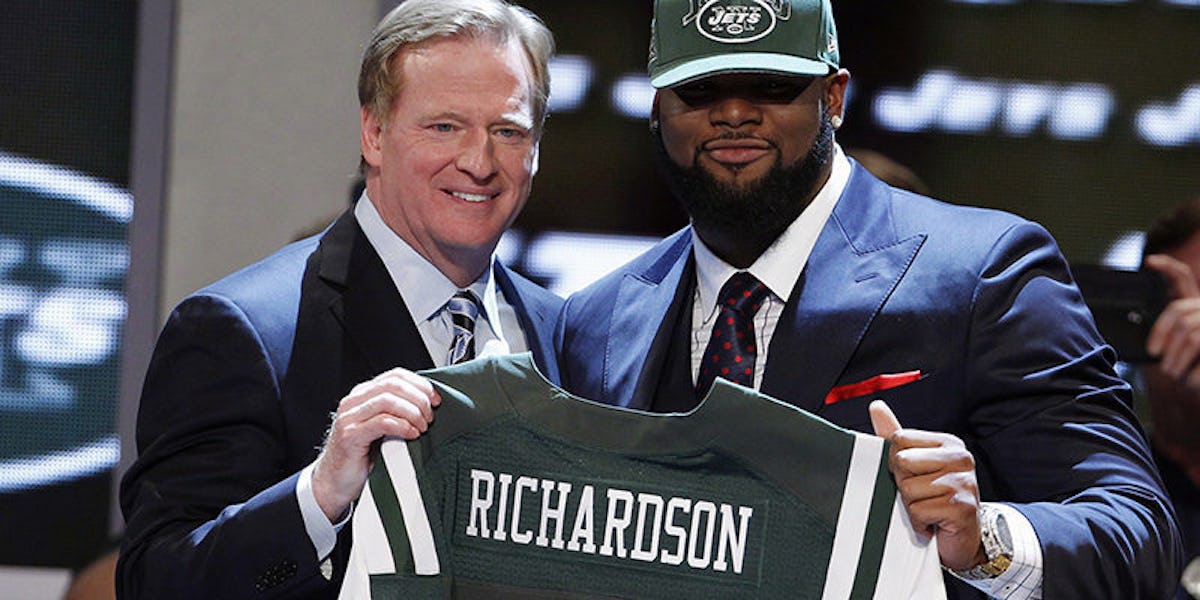 Here's How The 2013 NFL Draft Actually Should've Gone
REUTERS/Adam Hunger
The 2013 NFL Draft provided the league with some of the best players today. However, there are a handful of teams that wish they could do it all over again.
From a wide receiver who has turned into one of the best in the league today, to a defensive end who has more than proven his worth as a top five selection, the draft was certainly fun and full of talent.
But if teams could do it all over again, would three of the top five players selected really be offensive linemen?
Would players like DeAndre Hopkins, Le'Veon Bell, Travis Kelce and Tyrann Mathieu fall as far as they happened to on the first go around? It's unlikely.
Here's our take on how the first round of the 2013 NFL Draft really should've gone.
1. Kansas City Chiefs - DeAndre Hopkins
The Chiefs made history by taking a player from the MAC with the no. 1 overall pick for the first time in draft history. While he has turned out to be a solid player, Kansas City still needs help in a wide receiver, especially after going nearly two years without a catch from a wideout.
Hopkins is easily the most athletic player who came out of the 2013 draft, and would have given Alex Smith a magnificent target in his offense. He has 3,533 yards and 19 touchdowns in three seasons and that is with a shoddy quarterback under center.
2. Jacksonville Jaguars - Ezekiel Ansah
Again, the Jaguars didn't make a mistake by taking Luke Joeckel, but they would have loved to pick up a terrific defensive lineman like Ansah, especially after 2012's first-round pick, Tyson Alualu, hasn't worked out.
Ansah has recorded 30 sacks in his three seasons with the Lions, which is more than enough to say he is worthy of a top-five pick.
3. Miami Dolphins - Kyle Long
The Dolphins were one of the few teams hit with disappointment in the first round of the 2013 NFL Draft. Dion Jordan hasn't done much in his three seasons, most recently being suspended for all of 2015.
Quarterback Ryan Tannehill runs for his life most of the time and picking up a great offensive lineman like Long would do wonders for this team. He might even help them turn their run blocking game around and bring production to that department.
4. Philadelphia Eagles - Lane Johnson
Johnson is without a doubt the best offensive tackle to come out of the 2013 NFL Draft and the Eagles would not change a thing with their selection. He has proven his worth of his draft status.
Johnson has allowed just three sacks in his three-year career.
5. Detroit Lions - Le'Veon Bell
When Bell is healthy, he looks like one of the best running backs in the NFL. Bell was initially a second-round selection, but he has proven his worth in the league.
Bell has rushed for over 2,700 yards and 19 touchdowns, and was on pace to go for over 1,500 yards in 2015 before a season-ending knee injury. Bell adds some value as a pass option out of the backfield as well, catching passes for nearly 1,900 yards and three touchdowns.
6. Cleveland Browns - Sheldon Richardson
The Browns knew they needed to address their defensive front in the 2013 NFL Draft, but Barkevious Mingo has yet to work out for them. Taking a force in the middle of the line like Richardson probably would have been their better choice.
His 16.5 sacks have certainly proven to be a big reason for the Jets' success.
7. Arizona Cardinals - Tyrann Mathieu 
Taking Jonathan Cooper didn't work out for the Cardinals at all, and now he's off their roster. On the flip side, the team took a big risk in the 2013 NFL Draft by taking Mathieu in the third round. Luckily, it paid off.
He has yet to play a full season in his three-year career, due to injuries, but he has certainly made the most of his 40 games. Mathieu has recorded eight interceptions, including five last year, and 30 pass deflections.
8. St. Louis Rams - Tavon Austin
Many questioned the Rams in their decision to take Austin so high in the first round, but the risk has paid off for the team formerly stationed in St. Louis. He has proven his worth as an all-around offensive player.
Austin has caught passes for 1,133 yards and nine touchdowns, rushed for 809 yards and seven touchdowns, and has returned a punt for a touchdown in all three seasons. He isn't the best wide receiver in the league, but he can just about do it all for the Rams.
9. New York Jets - Travis Kelce
Kelce is quite possibly the most complete tight end to come out of the 2013 NFL Draft. Pairing him up with the likes of Rob Gronkowski and Jordan Cameron in the AFC East would be something to watch.
He has racked up over 1,700 yards and 10 touchdowns between the past two seasons, earning himself Pro Bowl honors in 2015.
10. Tennessee Titans - Travis Frederick
Taking either Chance Warmack, their actual pick, or Frederick would be a toss-up for the Titans. Both of them provide you with a terrific interior offensive lineman to provide running room and protection for your quarterback.
Tennessee probably would have been better off with Frederick as he was almost an instant star with the Cowboys. It took a year for Warmack to find his place with the Titans.
11. San Diego Chargers - Kawann Short
It took a couple of years for Short to get acclimated to the NFL, but he finally came into his own in the 2015 season. He certainly would be the perfect fit for the Chargers and their 3-4 look.
Short recorded 11 sacks last season, which is pretty rare for an interior defensive lineman. His presence in the trenches would have been a welcomed addition to the Chargers defense.
12. Oakland Raiders - Cordarrelle Paterson
It was puzzling when the Raiders decided to go with DJ Hayden in the 2013 NFL Draft, but you could see some sense in the move, thanks to his incredible athleticism and upside. Unfortunately for Oakland, the pick has not panned out.
So instead of going with an unproductive defensive back, the Raiders could have found an offensive boost.
Patterson is the ultimate deep threat for the Vikings and he also is a great return man. He led the NFL with two kickoff return touchdowns in both 2013 and 2015, and has nearly 3,300 yards in that department.
13. New York Jets - Desmond Trufant
The Jets would have loved to bring in a guy like Trufant to replace their original top 10 pick, Dee Milliner.
He is still finding his footing, but Trufant has six interceptions and 44 pass deflections. That would give the Jets some kind of defense against their AFC East rivals.
14. Carolina Panthers - Jamie Collins
Star Lotulelei has been very hit-or-miss for the Panthers, so we can't help but wonder if they would have addressed another defensive need with Jamie Collins? Could you imagine a linebacking corps with Collins, Luke Kuechly and Thomas Davis?
Collins is still young, but he has become a starter the last two years. He has 9.5 sacks and nearly 150 tackles in his three years with the Patriots.
15. New Orleans Saints - Keenan Allen
Outside of DeAndre Hopkins, there is not a single wide receiver who has been more productive than Keenan Allen. He exploded onto the scene his rookie year, going for over 1,000 yards and eight touchdowns.
He has turned out to be one of the best receivers in the AFC, and he would have paired very nicely with Marques Colston in New Orleans. Imagine what a guy like Drew Brees would do for him.
Check out the remainder of Round 1 over on CampusSports.net. Caleb Bailey, CampusSports.net