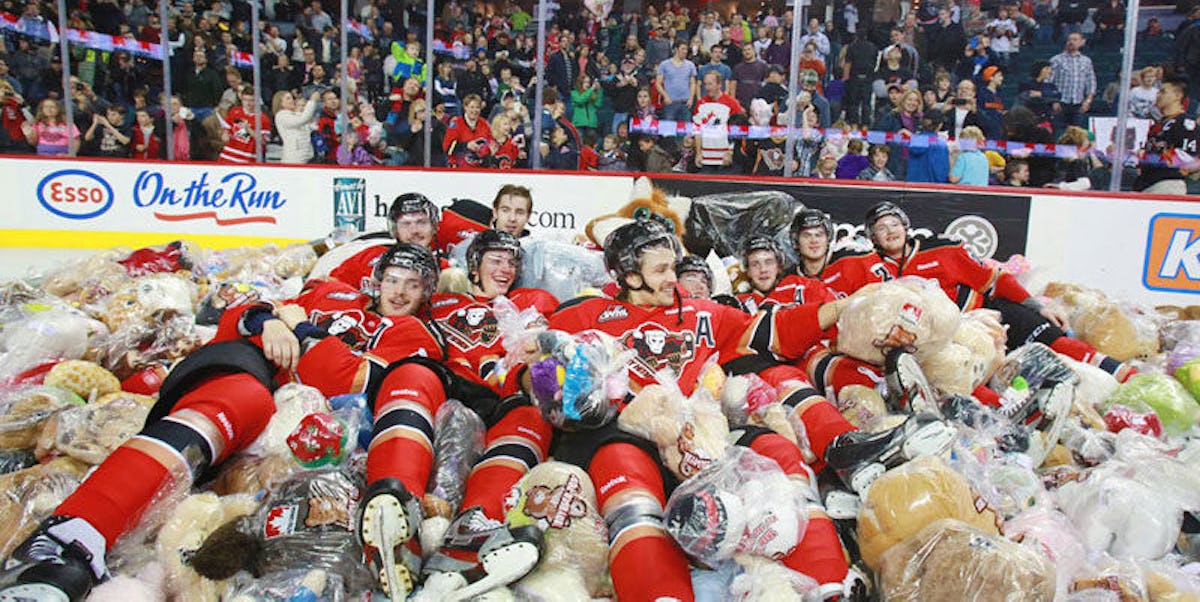 Hockey Fans Threw Thousands Of Stuffed Animals On The Ice For Amazing Reason (Video)
Yesterday, the Calgary Hitmen-Swift Current Broncos hockey game encountered a nearly 40-minute delay as a result of... teddy bears?
Following Jordy Stallard's second-period goal at the Scotiabank Saddledome on Sunday, a capacity crowd of 19,289 fans threw a total of 28,815 stuffed animals on the ice to mark the Hitmen's 21st annual Petro-Canada Teddy Bear Toss.
The toys will be donated to over 50 local organizations, such as the Calgary Food Bank, the Salvation Army and Siksika Children's Services.
The nearly 29,000 bears and other assorted animals broke the previous world record of 26,919 stuffed animals thrown on the Saddledome arena ice back in 2007.
Since the event debuted in 1995, the Calgary Hitmen have received nearly 300,000 stuffed animals for Calgary-area kids in need.
This is what the holiday season is all about.
Citations: WATCH: 28,815 Teddy Bears Thrown During Game, And It's All For Charity (The SPORT Bible), Hitmen break record as 28,815 stuffed toys rain down after Stallard's goal (Calgary Herald)