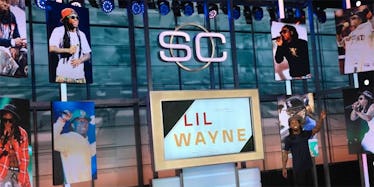 How ESPN Is Incorporating Hip-Hop Artists To Expand Its Audience
Facebook/Lil Wayne
ESPN became the "worldwide leader in sports" through its forward-thinking approach to how we, the fans, view the images and hear the sounds of the game, whatever game that may be.
With the rising popularity of the "First Take" duo Skip Bayless and Stephen A. Smith, shows such as, "Highly Questionable" and "Sports Nation" have been able to follow suit by garnering attention, especially from younger viewers.
While debating about Tom Brady's issue with high fives and low inflation, to the classic LeBron vs. Jordan vs. Kobe vs. Bill Clinton vs. Beyoncé argument, these shows have also invited hip-hop's current stars for input on these topics.
Some guests include Pusha T, Schoolboy Q, Lil' Wayne, Rich Homie Quan and others.
Hailing as one of America's most prominent and consistent counter cultures, hip-hop has been able to combat issues such as institutionalized racism, while still being able to provide club symphonies at King of Diamonds.
The artists that embody hip-hop multitask between being the world's greatest story tellers and being its most controversial social figures.
But this is what makes hip-hop the beauty it is. It's why it has grown into the sport world's favorite genre.
Felicia Martin, who worked within the Division I-A Athletics Directors' Association, defines hip-hop as a culture, a language, a fashion statement, a set of individualized values and a unique perspective embraced by a restless generation.
Hip-hop is about dance, art and expression.
Hip-hop style as a whole has outright broken through its humble roots to declare a lasting influence on magazine publishing, television, sexuality and social policy.
Hip-hop culture is embraced by athletes because of its ability to tap into the dual-consciousness of rags and riches.
Most professional athletes, especially those in the NFL and NBA, are able to relate to hip-hop's discussion about financial difficulties and urban dilemmas.
Its athletes typically come from the same socio-economic situations, but also often tap into the "on top of the world" perception, due to millions of fans and fame.
But what's even more intriguing is how hip-hop has impacted the rise of sports business for some time now.
"Straight Outta Compton" is an epic film that visualizes the story of the most dangerous rap group in music history, NWA.
Besides delivering hardcore and controversial music that inspired neighborhood locals and shook government officials, the rap group was also able to establish a fashion trend worn nationwide.
In almost every one of NWA's photos, they are seen sporting Oakland Raiders gear.
The silver and black paraphernalia soon stood as a symbol of rebellion, which appealed to the masses. So much so, that the Raiders saw their merchandise revenue increase from millions to $3 billion, just from the ties between their product and the nation's biggest pop culture story at the time.
Another hip-hop group that rapped its way into impacting sports apparel was Run DMC, who actually made a track titled, "My Adidas."
That track would later help them ink a $1 million dollar endorsement from the company to wear its signature "Superstar" sneakers.
The group would be seen sporting the sneakers without laces with the tongues out at their shows. This style, too, soon took over youth fits and, in turn, increased sales for Adidas.
The bond between hip-hop and sports apparel started to grow at an even more rapid pace, once its marketing promise was seen by companies such as Mitchell and Ness.
Company owner Peter Capolino visited my Management in Sports class during my last semester at Rutgers University. He turned a regular Q & A into a nostalgic story session that I was blessed enough to hear.
He delved into his connections with hip-hop's greatest names such as Jay Z, Andre 3000, Fat Joe and P Diddy.
He reminisced about random phone calls from Fat Joe and other artists wanting signature sports jerseys to be worn at shows and performances or for everyday fashion.
Capolino explained how the number of requests for these jerseys rose quickly and consistently once these rappers were seen wearing them on tours and even in their music videos.
This soon turned into a top fashion trend for some time, which boosted sales revenue, not only for Mitchell and Ness, but similar companies and sports franchises as well.
Moving away from sports apparel, Dr. Dre swiftly took the audio world over when he found ways to market his signature studio headphone line, Beats By Dre.
The intended use of the headphones was to provide innovative audio experience through studio-inspired headphone technology.
He started the line in 2006, but really saw the rise in its marketability when he utilized premiere athletes such as LeBron James, Serena Williams, Richard Sherman and more in commercials, as opposed to only depicting its in-studio use to the world.
By incorporating the world of sports, he was able to turn the everyday athlete into a studio-quality headphone consumer.
This boosted the popularity and allowed Dre to cash-in a $3 billion payday from Apple when it bought the headphone company in July of 2014.
Besides being the "Mike Jordan of recording", Jay Z was able to take Roc Nation to another level when the music label launched a sports agency branch for the company.
Since then, he's cashed in on signing a multitude of top names, such as Kevin Durant and Robinson Cano, even letting it be known mid-verse on Crown, off his most recent studio album, Magna Carta Holy Grail.
Scott Boras, you over baby Robinson Cano, you coming with me These n****s like rotary phones It's a new day, hit up KD
Before this venture, Jay Z was a minority owner of the Nets, influencing their move from New Jersey to Brooklyn.
He eventually had to relinquish his stake in both the Barclays Center and the team because he became a representative for the players since taking on the role of an agent.
Moving up north to the 6, the Toronto Raptors sought help from the "6 God" himself, as Drake became the Global Ambassador for the Raptors in 2013.
His prowess in pop culture has been utilized to bring growth to the fan base and attract top free agents around the league.
With the team achieving playoff births in the past few seasons and being awarded the honors of hosting the 2016 All-Star festivities, Drake has further aided the team in improving its marketability and branding to attract more audiences from within and outside of Canada.
What was once a world counterculture, is now shaping to be the soundtrack to a lot of marketing and advertising projects for businesses around the world.
ESPN is keying in on a trend by becoming a major sports brand to bring this to the forefront, prospering off the relationship these two worlds have shared for decades now.
The genre is truly in a new golden era, penetrating even more artistic, social and political hemispheres than before.
And now ESPN, the worldwide leader in sports, is telling you to take notice.