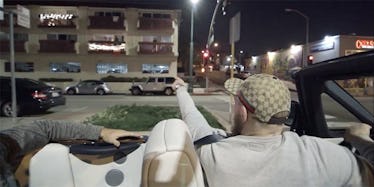 Here's How To Get Conor McGregor To Show Up At Your House
He's only been UFC champion for less than a year but Conor McGregor has already cemented his status as a king in mixed martial arts.
As the 27-year-old Irishman trains for his next fight in LA, he's been living like a true boss and driving to his gym completely Gucci'd out in his drop-top Bentley.
This behind-the-scenes footage obtained by TMZ shows McGregor driving to the gym when he noticed a fan had a cardboard cut out of him, along with an Irish flag, hanging from his apartment.
So like any good role model, Conor showed up to the dude's crib to completely make his life. The hilarious interaction proves that McGregor isn't that big of an asshole after all!