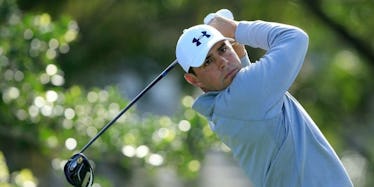 Pro Golfer Took His Pants Off To Take A Shot At The Honda Classic
Getty Images
Normally, I would say watching golf on television is the equivalent of watching paint dry, but thanks to professional golfer Gary Woodland, yesterday's Honda Classic produced a moment worthy of repeated viewing.
After hitting his tee shot on the sixth hole very close to the water, Woodland reportedly stripped down to his underwear so his pants wouldn't get wet and dirty while he attempted to shoot himself onto the green.
The pants came off for this shot ... #QuickHits https://t.co/7SBNOyB7VR — PGA TOUR (@PGATOUR) February 28, 2016
I mean, do what works, right?
In case you're wondering, Gary Woodland finished tied for 61st at the Honda Classic, but at least his pants were presumably dry.
Citations: PGA TOUR (Twitter), Gary Woodland Takes Off Pants to Hit Shot at Honda Classic (Golf.com)