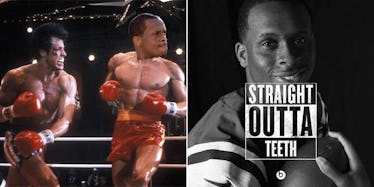 These Geno Smith Memes Show What A Joke The New York Jets Truly Are
Twitter
Imagine getting rocked and the whole world knowing about it.
That's exactly what happened to Geno Smith during an altercation with a teammate recently, and while it was an unfortunate situation, it's what we've all come to expect from the New York Jets at this point.
Quarterback problems have plagued the franchise for decades, but these recent events are straight out of an episode of "Ballers."
Realistically, the defense will hold it down and replacement Ryan Fitzpatrick should be solid, but just imagine being a Jets fan right now?
This is the legacy Geno Smith will be remembered by now.
His team picture has since been updated with his new jaw.
And he even inspired Beats to change up its new campaign.
Now, that's a face only a mother could love!
Despite all the interceptions he's thrown over the years...
His reputation has hit an even newer low.
The fight realistically went down like this:
According to reports, he took one straight to the chin.
For the first time, Geno Smith had to swallow his pride.
It's hard to say nobody saw this coming, though.
@DragonflyJonez pic.twitter.com/VVsAWxIazv — El Cheevus (@elcheevus) August 11, 2015
The incident is larger than life at this point, and "CSI" is even recreating it.
But there's always two sides to every story.
Of course, this is putting Geno's teammates in an awkward situation.
It wasn't like anything was going to change this season.
But just damn...