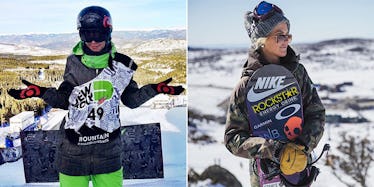 5 Female Athletes Explain Why They Choose To Postpone Motherhood
Getty Images
On Monday night, when US soccer player Sydney Leroux revealed she was expecting a child with MLS star Dom Dwyer, it felt like somewhat of a bittersweet announcement.
Surprise! My plans have changed for this summer. @Ddwyer14 and I are so excited to announce... pic.twitter.com/99knKtCvTO — Sydney Leroux Dwyer (@sydneyleroux) January 26, 2016
Fans had ample reason to be happy for the recently married duo, who have become the first couple of soccer in the States.
But for Leroux, the blessing of a child also brings a professional burden.
Leroux will now miss out on a chance to win a gold medal at this summer's Olympic Games in Rio. Winning a gold medal, a year after winning a Word Cup with the USWNT last summer, would have been a potential once-in-a-lifetime feat, one Leroux might now never experience.
In an election season during which maternity leave -- and by extension, the place of family in a woman's career -- is one of the topics du jour, Leroux's announcement reminds us of something that is often taken for granted with women in sports: becoming a mother.
No matter how strong or how physically superior they are, they are just like the many other young female professionals who must weigh the possibility of starting a family against their career ambitions in a way their male counterparts do not.
For American snowboarder and Olympic gold medalist Jamie Anderson, the question boils down to time. Anderson tells Elite Daily,
Raising a family is something I definitely want to do, but it isn't something I'd do while I'm still competing professionally as an athlete. You have to be fully committed to your family when you're raising kids. I grew up in a family of eight, and I loved it, but know how full on it is. When the time is right, I'll have some little ones for sure.
Anderson, 25, who's in a relationship with fellow snowboarder Tyler Nicholson, is one of several female athletes who offered their thoughts on this subject in the lead-up to this week's Winter X Games in Aspen.
For these athletes, having a child not only means putting their careers on hold but also putting their careers at a significant risk, considering the physical effects pregnancy puts on the body.
That fact, and that risk, is not lost on 22-year-old Norwegian snowboarder Silje Norendal, who tells Elite Daily,
It's a really interesting question and it definitely has been crossing my mind. My personal thought, when it comes to snowboarding or extreme sports in general, is that as soon as you want to start a family and have kids, your career is done. I would love to be able to have kids and keep going, but I don't think my mind/body would be able to. It's also a lot of traveling that will make it even harder. Would love to see it happen though.
And avoiding having a child doesn't necessarily come down to not wanting one. Canadian skier and X Games medalist Rosalind Groenewoud, for example, hasn't ruled out the idea of balancing motherhood and professional responsibilities. She says,
I definitely want to have a family. I love babies and children! However, at the moment, my life is full with juggling my ski career and my academic pursuits. The completion of my undergrad thesis in neuroscience is my current 'baby'... I've spoken to many highly successful professional women about how one juggles a family with professional life, and I'm looking forward to it sometime in the future.
Age, unsurprisingly, factors into these discussions as well. You might expect younger athletes to be more optimistic about their ability to handle multiple responsibilities.
But even those who haven't experienced the toll of the year-to-year grind for as long as others, like 19-year-old Arielle Gold, nearly rule out the possibility altogether.
Gold tells Elite Daily,
If I did end up raising a family at some point during my snowboard career, I would have to imagine that it would be challenging, to say the least. I am on the road several months throughout the year, and when I am home I like to enjoy some free time, and more or less relish the fact that I am responsible for nobody but myself.
Even with age, there's no getting away from one fact: With all the globetrotting commitments and responsibilities to keep themselves fit, some female athletes just cannot find the room for both career ambition and another life.
Keri Herman, 33, knows this all too well, saying,
I guess I'd say with all the travel and training I do, I have a hard enough time holding down a boyfriend, much less trying to start a family. It would definitely put my career on hold if I decided it was time for kids. Therefore, it's not going to happen.
Like many young female professionals, motherhood will have to wait for these athletes.