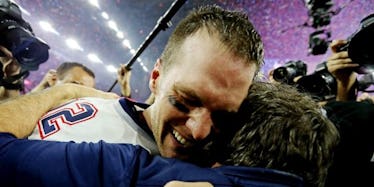 FBI Finds Tom Brady's SB 51 Jersey, Because That's Where Your Tax Dollars Go
USA TODAY Sports
Apparently, the Federal Bureau of Investigation had been looking into the stolen Super Bowl 51 jersey of New England Patriots quarterback Tom Brady.
I say this because early Monday morning, the league released a statement that claimed the FBI aided in finding Brady's missing jersey from Super Bowl 51, as well as the jersey the 39-year-old apparently had stolen after Super Bowl XLIX in 2015.
According to FOX's Jay Glazer, who knows more about NFL players than they know about themselves, the jerseys were found on "foreign soil," which brings up a whole slew of questions.
First off, was Brady's stolen Super Bowl jersey a matter of national security?
At least some portion of your tax dollars goes toward the FBI, so you can take some solace in knowing you helped track down a rich white man's stolen shirts.
Second, where exactly did the FBI go to find Brady's jerseys?
Well, according to a report, it appears the jerseys were found in Mexico. Houston police, with the help of Mexican law enforcement, apparently plaid a key role in the discovery.
Clearly, El Chapo stole Tom Brady's Super Bowl jerseys.
It's the only logical conclusion.
Here's the above referenced statement the NFL put out this morning on Brady's jerseys.
Let's pay attention to the second half of the NFL's statement, which appears to indicate Brady's jerseys were indeed found outside of the United States.
That portion of the statement reads,
The items were found in the possession of a credentialed member of the international media. Due to the ongoing investigation, we would refer any additional questions to the FBI.
Here's the tweet Jay Glazer posted, in which he claims the person who took Brady's jersey posed as a member of the international media.
I'm absolutely blown away by this whole thing.
Each detail is more ridiculous than the last, and I can't help but feel like everyone got screwed in the end -- except for Tom Brady, of course.
Brady never loses, fools.
Citations: THE FBI FOUND TOM BRADY'S STOLEN SUPER BOWL JERSEY ON "FOREIGN SOIL" (VICE)